Tour Alaska's Denali National Park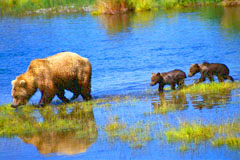 The Denali National Park is often considered to be an important additional to an Alaska cruise.
Denali features dramatic landscapes and wildlife such as bear, moose, caribou, wolves and more.
Take the Alaskan Railway train from Anchorage for a relaxing journey to discover this amazing wilderness.