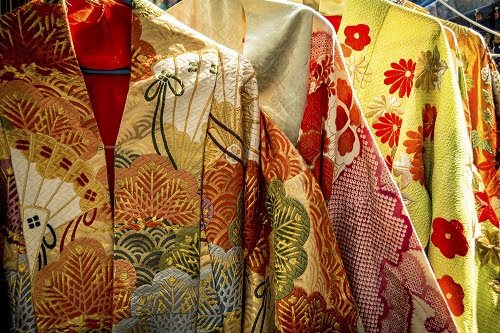 When you think Japan and Japanese aesthetic, the kimono immediately comes to mind.  This deceptively simple but eternally elegant garment has been the national dress of the Japanese for centuries.
The T-shaped straight kimono we know today, which is intricately wrapped, folded, and belted to fit the wearer, developed as a riff on ancient Japanese robes in the first millennium A.D.  The straight kimono was an innovation much appreciated at the time since it was far easier to fold and store, it lent itself to layering, and thus was suitable for all seasons, and because of the T-shape, tailors did not have to custom measure, but rather mass-produced a handful of lengths suitable for most bodies.
+ Our Japan tour bring you face-to-face with Japan's enduring ways when you dine with an apprentice Geisha in Kyoto, sample fine sake, tour a Zen garden and visit the famous Tsukiji Fish Market.
+ Hear colorful stories of Kyoto's Geisha traditions on a guided stroll through the historic Gion district.
+ Learn about the ancient tenets of Japanese landscape at Kenrokuen, revered as one of the country's three loveliest gardens
+ A skilled chef in Tokyo teaches you the finer points of preparing restaurant-quality sushi.
+ Travel to the rural mountain hamlet of Shirakawago, known for its unusual century-old farmhouses
+ Includes 5 UNESCO World Heritage sites
For all her cutting age technology, Japan guards her cultural traditions jealously.  Nowhere is this more palpable than in the ancient city of Kyoto.   The exquisite palaces and temples make Kyoto a highlight of any trip to Japan, but it is the ancient traditions and institutions that are still very much a part of the fabric of modern life which make visiting Kyoto such a unique experience.
1.  Stay in a Ryokan:  Kyoto abounds with historic Japanese inns or ryokans, where few nods to Western ideas of comfort or hospitality are extant.  Visitors slip into cotton kimonos and comfortable slippers, enjoy traditional Japanese fare sitting on tatami mats on the floor, sleep on comfortable futons, and enjoy a luxurious bath in deep, wooden ofuro soaking tubs.
2.  Make a Memory of a Geisha:  Kyoto is the geisha — or geiko, as they are known locally — capital of Japan.  The delightfully quiet neighborhood of Gion is their headquarters, filled with narrow cobblestone streets and wooden houses lit with paper lanterns.  Evening is the best time to catch a glimpse of the geiko and maiko (trainee geisha) along the streets, exquisitely dressed for their evening's engagements.


3.  Enjoy a Japanese Tea Ceremony:  for over a thousand years, the Japanese have been perfecting the subtle art of the tea ceremony.  Visit one of Kyoto's picturesque tea houses to learn more about this very disciplined and formal ritual, which is filled with spiritual and philosophical meaning.

4.  Visit a Sentō: A Public Bath House.  Join the locals for a quintessentially Japanese experience by visiting one of Kyoto's many public bath houses.  Lather up in the showers, and then bask in the warmth of a traditional wooden soaking tub.  Emerge squeaky clean and heartily refreshed!

5.  Visit the Nishiki Market:  rub shoulders with Kyoto's chefs and gourmands as you browse market stalls heaving with fresh fish and seafood, produce, and sweets. Nishiki's old wooden stalls are a photographer's dream, just as are their contents are irresistible to discerning shoppers: this is a great place to find authentic chopsticks, Japanese ceramics, porcelain, lacquer, and super-sharp Japanese cutlery.

Nara; The Cradle of Japanese Buddhism
Japan's imperial capital of Nara (710-794) is the home to some of the country's most iconic architectural monuments, including the Nanto Shichi Daiji, the seven Buddhist shrines that date back to the introduction of that faith to Japan.
Nothing Stands in the Way of Tokyo's Modern Vibe
A landmark of Tokyo's eclectic architecture, the "Reversible Destiny Lofts" are enjoying a spike in popularity thanks to HBO's popular show GIRLS, which featured the iconic "death-defying" living units, as architects Shusaku Arakawa and Madeline Gins dubbed them, prominently in its latest season.
The vibrantly colored units, which look more like a preschool playground than an upscale residence, plays home to Shoshanna, the somewhat shy NYU mathematics graduate who is living the ultimate twenties-something dream of working in an exciting and exotic foreign city and having life just "click."
Welcome to the Inscrutable World of Japan's Geisha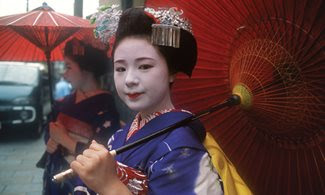 If Japan had anything as pedestrian as a mascot, it might very well be an elegant 
Geisha
, resplendent in her traditional silk robes, elaborate coiffure, and stylized make-up.  This 400-year tradition of professional entertainment is often misunderstood by foreigners, who tend to confuse 
Geisha
 with courtesans or modern-day call girls.
In fact, they are a highly-competitive, rather secretive guild of skilled practitioners of the traditional Japanese arts of flower arrangement, calligraphy, conversation, stylized dancing, execution of the symbolic but deceptively simple tea ceremony, and playing the three-stringed shamisan.
Although the number of Geisha is dwindling, they are still very much a key element in Japanese leisure and entertainment and can be found in many large Japanese cities, and most particularly in Tokyo, Kanazawa, and the ancient capital of Kyoto, which is known for its well-preserved Geisha districts.
Source; Alexander and Roberts