5 Last Minute Getaways You Cannot Miss in 2018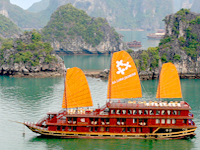 1. Biennale Buzz in Bangkok
Be part of the inaugural Bangkok Art Biennale from 19 October 2018 to 3 February 2019.  We are excited to see the works of 75 artists from Thailand and around the world, each discussing their interpretation of the theme "Beyond Bliss", with installations and exhibits across the city. This is a rare chance to rediscover Bangkok through the eyes of photographers, illustrators, performance artists and more.
---
2. Glamping it Up in Luang Prabang
Head off the beaten path and discover the exotic wilderness of a Laotian jungle on the outskirts of Luang Prabang in Laos.  We suggest a stay at the newly opened Rosewood Luang Prabang for an extravagant luxury tent or villa experience. In the style of early colonial explorers, guests can trek through lush vegetation to meet ethnic villagers then return to the comfort of their five-star accommodation overlooking the river, enjoying the soothing sound of the waterfall flowing in the distance.
---
3. Eating Your Way Through Vietnam
Spring rolls, grilled meat skewers, beef noodles, Vietnamese baguettes!  Vietnamese food offers endless variety and plenty of surprises for the taste buds!  The flavors vary from north to south, each town specializing in its own unique dish. Our guides know the best places in town to try Hanoi's specialty pork noodles with spring rolls and Ho Chi Minh City's pho (noodles served in a flavorful broth sensation).  Completing the full culinary circle, we also take guests to the central coast to experience the life of fishermen and learn all about rice and vegetable farming.
---
4. A Spiritual Renewal in an Ancient Land
What better way to prepare for the new year than to embrace a moment of quiet reflection at one of Southeast Asia's magnificent temples. Temples are the center of life and tradition and guests can take part in a ritual blessing ceremony, find inner peace through private meditation with monks and listen to the melodic and deeply spiritual sound of novices chanting in the evening.
---
5. Sun, Sand and Seafood Bliss
Take time out to walk barefoot across soft golden sands while being serenaded by the sound of gently lapping waves.  Southeast Asia is home to many of the best beaches in the world where families enjoy quality time playing in the inviting tropical waters and tasting local delights plucked directly from the sea, while honeymooners are whisked away for a romantic tryst on a private island. The islands of Thailand, Myanmar, Vietnam and Cambodia enjoy ideal weather from November to December and, with the anticipated launch of Alila Villas Koh Russey and Six Senses Krabey Island later this year, there has never been a better time to visit!

Click Here For More Information On Asia
Source A&K