Bag Fees for Major Airlines And Ways to Avoid Them
Bag fees have increasingly become a point of contention for travelers over the few several years. Here's a roundup of the fees charged by the major airlines — and some tips on how to avoid them.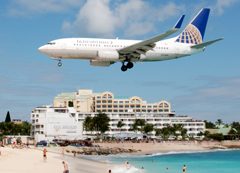 Air Canada and WestJet

Late last month, Air Canada and WestJet said that they will raise the fee for the first checked bag to CAD $30, from CAD $25, matching a similair price increase from JetBlue.
The airlines, the two largest in Canada, also raised the price of the second checked bag to CAD $50, up from CAD $30.
The new baggage fees apply to travelers flying on the lowest fare types. Higher fare classes, including Air Canada's economy flex and economy comfort fares and WestJet's Plus passengers, and gold and silver rewards members, will continue to get the first checked bag for free.
---
Alaska Airlines
Alaska Airlines generally charges $25 for the first checked bag, $25 for the second, and $85 for the third and any additional bags after that.
The carrier will waive the fee for the first bag for a traveler, if they are an Alaska Airlines Visa cardholder. In addition, cardholders can get the first free checked bag for up to six other passengers on the same reservation. The same goes for Alaska Airlines Visa Business cardholders and Alaska Airlines World Elite MasterCard cardholders.
---

American Airlines
American Airlines currently charges $25 for the first bag and $35 for the second in economy for flights within the U.S. and Canada. Those prices change for international flights depending on the destination.
Travelers in the carrier's Premium Economy can check their first bag for free, but a second checked bag will cost $35.
American Elite members are allowed to check up to 3 bags without a fee.
As for the future of prices, an American spokesperson told Travel Market Report, "We are unable to comment on questions regarding future pricing."
---
Delta Air Lines
Within the U.S. and Canada, Delta charges $25 for the first bag, and $35 for the second, for those in economy.
Delta Premium Select and Delta One and up, get two bags up to 70 pounds for free, but the increase in those fares is typically more than what the bag fee addition would have been.
Passengers who have a Delta SkyMiles Credit Card from American Express get one free bag when they book with the card, plus a free bag for eight travel companions.
Delta did not return Travel Market Report's request for a comment on the future of its bag fees, by the time of publication.
---
Hawaiian Airlines

The first bag for main cabin guests traveling to North America on Hawaii Airlines costs $25, while the second checked bag runs passengers $25.
Hawaiian World Elite Mastercard members get the first bag free; Pualani Platinum members gets their first three bags free; and Pualani Gold and Club members get their first two bags free.
HawaiianMiles members get $10 off the first bag and $15 off the second, but the discount is only available for flights to neighboring islands.
JetBlue became the first major airline to require $30 for the first checked bag, when it hiked its prices late last month. It also raised the price for the second checked bag to $40 and the price for the third checked bag to $150.
One way around the fee is by upgrading to JetBlue's next ticket tier, the Blue Plus fare, which is usually about $15 more than the base fare ticket (which JetBlue calls its Blue fare). That fare includes one free checked bag.
Passengers wanting to check two bags without paying the extra fees can upgrade again to Blue Flex, which also gives passengers free cancellations or changes and access to expedited security. That fare can be anywhere from about $100 to $150 more than the base fare depending on the route.
---
Southwest Airlines

Southwest allows economy passengers to get their first and second bags for free
"Our Bags Fly Free program is a popular offering, which our customers tell us they love. We have no current plans to change the program," a Southwest spokesperson told Travel Market Report.
---
News broke earlier this month that United Airlines is matching the bag fees set by JetBlue. The carrier is charging $30 for the first checked bag (up from $25), $40 for the second (up from $35), and $150 for the third (up from $100). The fee for United flights to and from Canada for a second bag is now $50.
United's Premier Silver members are eligible to check one bag for free for travel within North America, while Premier Gold member are eligible for two, and Premier Platinum and 1K members are eligible for three bags free.
---
Other ways to get around bag fees
As the proliferation of bag fees across the industry over the last few years have made headlines, third-party companies have sprouted up that say they save travelers time and inconvenience by sending bags through a different avenue than on their airplane.
One of those companies, Luggage Free, offers travel agent commission. According to Luggage Free, pricing for sending bags ahead of time is dynamic; it depends on the destination and type of bag, as well as the speed of shipping.
According to Jeff Boyd, who is the founder and president of Luggage Free, the service serves "hundreds of thousands" of customers at the moment, and it's growing.
"Luggage Free enables agents to provide their customers with a truly luxurious and hassle free experience from end to end within many different price brackets," Boyd  told TMR.
---
Source; TMR Travel Market Report