Tanzania's Cradle of Humanity
Ngorongoro Crater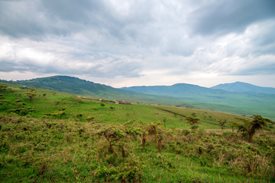 Tanzania's remarkable Ngorongoro Crater is one of the highlights of an African safari, justified as one of the continent's 7 Natural Wonders. The crater is the largest intact, unfilled, inactive volcanic "caldera" (from the Spanish world for "cooking pot) or crater in the world. The eruption of an active volcano millions of years previously, spread lava over the area of the crater, and with it, rich mineral deposits in the volcanic soil and abundant water, making Ngorongoro one of the most fertile grazing areas in all of Africa; millions of beasts who take part in Africa's Great Migration pass through its verdant grasslands.
Ngorongoro takes its name from "El-Nkoronkoro," meaning "gift of life." Paleontologists and archeologists who have studied the area concur as the crater's volcanic surface is an invaluable repository of fossilized footprints of hominid species have been found in the area dating back more than three-million years, showing clear evidence of the development of bipedalism, or the ability to walk upright on two legs. It was also in Ngorongoro's Olduvai Gorge that paleontologists Louis and Mary Leakey discovered the first Proconsul skull, thought to be a direct ancestor of the homo sapiens.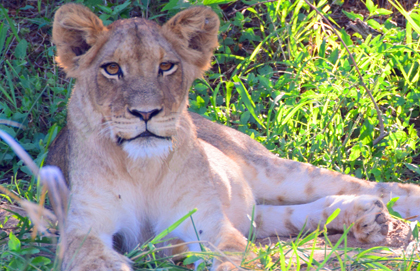 The bounty of fossilized remains is matched by the crater's plenteous wildlife. The verdant grasslands are home to numerous species, including humans: in fact Ngorongoro is the only wildlife preserve where humans and animals coexist. Evidence of the Mbulu tribe was found, dating back almost 2000 years, the Datooga tribe was active in the region in the eighteenth-century, and both were forced out by the Maasai in the early nineteenth-century, who still graze their cattle in Ngorongoro today.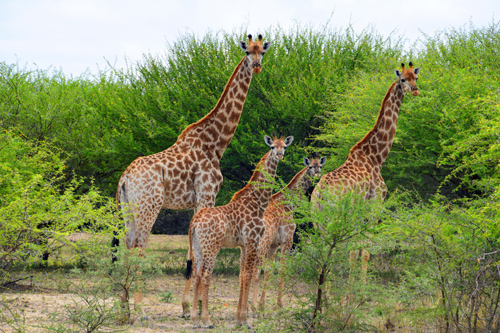 White men found Ngorongoro relatively late in the crater's long history. During the era of German colonization of Tanzania, Austrian explorer and cartographer Oscar Baumann became the first European to visit the crater, and later, the Siedentoph brothers forced the Maasai out and divided the crater in two: one part for cultivation, the other for livestock. The brothers were pioneers in hunting tourism, attracting wealthy big game hunters to Ngorongoro. Following Germany's defeat in World War I, British settlers continued to use Ngorongoro as a big game hunting reserve. In 1948, the crater became a protected zone, but the Maasai were denied access to the verdant grazing lands. The next decades happily saw the Tanzanians take measures to protect Ngorongoro's unique ecosystem, and the region was designated a UNESCO World Heritage Site.
Today the crater shelters many rare and endangered species such as 26 extremely rare black rhinos. The crater is also home to some 7000 wildebeests, 4000 zebras, 3000 Grants and Thomas gazelles and an impressively dense concentration of 62 lions, who roam the crater's 110 square miles. Birds also make their home at Ngorongoro: white pelicans, ostrich, and flamenco.
At Donna Salerno Travel guests spend unforgettable nights in luxury camps inside the crater, with privileged access to the crater floor.  Contact us today to plan your amazing Africa escape;  888.777.7820 or Info@DonnaSalernoTravel.com  
#Africa #Tanzania #NgorongoroCrater #DonnaSalernoTravel