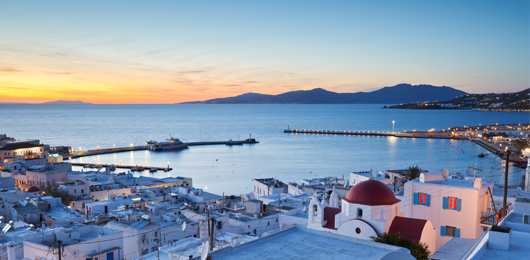 The Mediterranean's azure waters await you on this stunning 11-night journey to its most luxurious island paradises. Traveling from the iconic whitewashed wonders of Greece's Santorini and Mykonos islands, to the lesser-known jewel of Malta nearby, this journey encompasses luxury at its most elevated on an unforgettable Mediterranean multi-country vacation.
Itinerary Description:
Your luxury Mediterranean journey begins in the ancient capital of Athens. During your two days here, you will witness the unique blend of past and present alive in its streets. First take a private walking tour of the city to visit a few of its most definitive sites, followed by an exploration of the traditional markets and authentic character of Athens' many picturesque neighborhoods.
Your next destination is none other than the chic island of Santorini. Its amazing views, romantic atmosphere, mysterious sunsets, and whitewashed houses are perhaps best encapsulated at Canaves Oia, your home away from home on the island. While it will be difficult to tear yourself away from your cliff side suite, you will not want to miss all that is in store: tasting award-winning wines at a local winery, wandering through the scenic paths of Oia, dining under the stars, island-hopping in your private yacht on the Aegean Sea to hidden beaches, and meeting with the local people to learn about their life on the island.
After soaking in the beauty of Santorini, continue onward to Mykonos, perhaps the most renowned of all of the Greek Islands. Expect to explore its giant whitewashed windmills and chapels scattered along the countryside, divine sandy beaches, unique Cycladic architectural style, and cosmopolitan nightlife. From your waterfront bungalow at Mykonos Blu, you will have the opportunity to capture the essence of the blue oasis that is Mykonos. Orient yourself with the most famous beaches and architectural marvels of the island with a guided tour, followed by a private boat excursion in search of some of the more pristine, off-the-beaten-track beaches and snorkeling spots. A day cruise to Delos can even be arranged for those interested in visiting one of the most important mythological, archaeological, and historical sites in Greece.
The final stop on your luxury Mediterranean escape is perhaps the most surprising: Malta. Recognized as the "Jewel of the Mediterranean", the Maltese Islands – though small in size – boast some of the best this planet has to offer. Here you will find temples that pre-date Stonehenge and the pyramids at Giza, some of the clearest waters in the world, and a capital city more akin to a baroque masterpiece than a metropolis.
Upon arrival, you will be greeted with an exclusive cooking class and dinner in a private home, as well as the quiet luxury and impeccable style of your boutique luxury hotel accommodations at Palazzo Consiglia. Walk through the rolling countryside, picnic in the local vineyards, encounter local artisans in the gilding studios, explore the back streets of Valletta, and set out into the open sea for a sunset dinner cruise aboard your private sailboat during your time here. From start to finish, the charm you will experience on Malta and all of your Mediterranean Marvels destinations promises to take your breath away.
Does Greece (or another destination) have you packing your bags? We help with curated trips worldwide; private villas, transfers & tours. Let Donna Salerno Travel orchestrate your next escape.
#DonnaSalernoTravel #luxury #travel #BookNowTravelLater