Fun In The South Florida Sun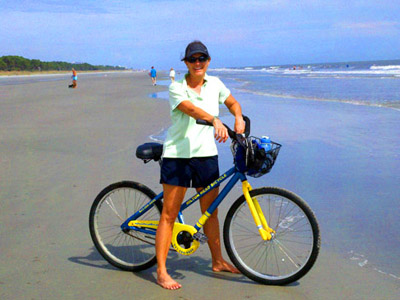 Thinking of a South Florida getaway? Donna Salerno Travel can help! Let us know your preferences and we orchestrate a seamless vacation filled with fun activities and 'Insiders Tips'.
Although Florida has two climate zones, people flock to South Florida—Miami, Palm Beach, Naples, Fort Myers, and the Keys—for its northern Caribbean climate. In winter, the temperature on most days is between 76 and 82 degrees. The Gulf Stream allows the region's climate to stay mild and the ocean's water to stay warm. In summer, the temperature climbs, and the humidity increases dramatically.

Miami to Palm Beach: Miami is known as a gateway to the Caribbean and South America, a paradise of sunshine, palm trees, and tropical breezes, and the cruise capital of the world. The city of Miami has the Everglades to its west and Biscayne Bay to its east. The Bay has several hundred natural and artificially created barrier islands, the largest of which is the city of Miami Beach. Dodge Island is an artificial island in Biscayne Bay between Miami and Miami Beach. It hosts the Port of Miami, the world's busiest cruise ship port and offices of major cruise lines.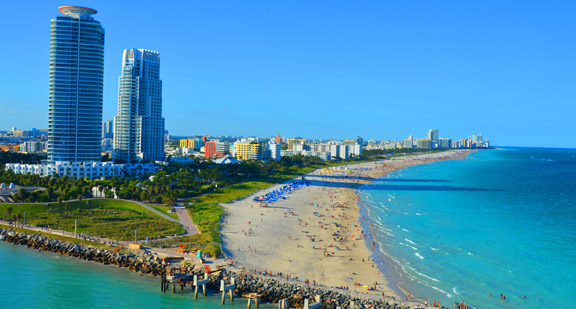 In 1979, Miami Beach's Art Deco Historic District was listed on the National Register of Historic Places. South Beach (also known as SoBe) is one of the more popular areas of Miami Beach and is considered one of the region's richest commercial areas. It has the world's largest collection of Art Deco architecture: hundreds of hotels, apartments, and other structures built between 1923 and 1943 painted in pastels. Its nightclubs, beaches, shopping, and annual events—such as Art Basel, Winter Music Conference, and South Beach Wine & Food Festival—attract millions of domestic and international travelers to Miami Beach every year. Besides the beach and nightlife, sights in Miami/Miami Beach and environs include Vizcaya Museum and Gardens, a 70-room Italian villa—now museum—built in 1916 on the shores of Biscayne Bay, and Little Havana, the most well-known of Miami's many neighborhoods.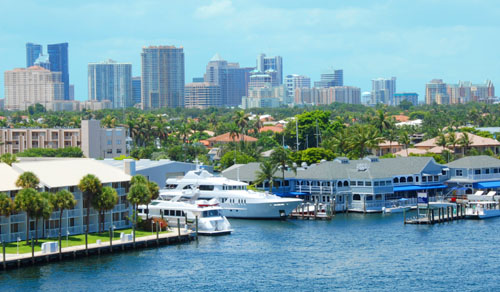 Fort Lauderdale, 27 miles north of Miami, is both a continuation of the coastal strip and a destination unto itself. Nicknamed the Venice of America, a reference to the 165 miles of inland waterways that wind around the city's prettiest real estate, canal boat tours are the best way to view the city. The city is a major yachting center; many residents own boats and use them— rather than cars—for transportation.

Farther north along the coastal strip are more resort towns: Pompano Beach, Boca Raton, Delray Beach, Palm Beach, and Jupiter. West Palm Beach was built across Lake Worth as a service town for Palm Beach's wealthy residents and has become a major city in its own right. Shopping, night life and festivals fill it's calendar, jump in the fun here and surrounding areas.

Palm Beach is considered one of the country's most luxurious and opulent resort areas. World-famous shopping districts, golf courses, and palatial homes grace the Palm Beach area.


The Everglades and Key West

The Florida Keys is the archipelago of low-lying coral and mangrove isles that stretch in a southwest direction from the tip of the state, 129 miles from Miami. The Keys are perhaps the only place in the world where you can drive miles out into the ocean. Each island is connected by a causeway or bridge.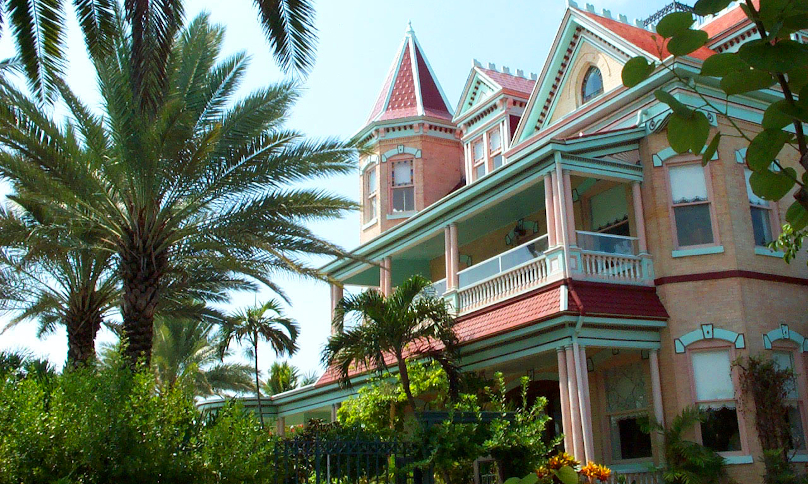 Besides soaking in the sunshine and the liquids of Key West's bars and pubs, visitors can tour Ernest Hemingway's House, where the writer lived for 10 years. The six- or seven-toed cats descended from Hemingway's pet still live on the grounds. Not to be missed is a visit to Mallory Square to watch the sun slip into the Gulf of Mexico with a blazing red farewell to the day.

Everglades National Park is the third largest national park in the lower 48 states. It has been declared an International Biosphere, a World Heritage site, and a Wetland of International Importance. The Everglades are a network of wetlands and forests fed by a river flowing out of Lake Okeechobee into Florida Bay.

The park has four visitor centers. The closest to Miami is on the Tamiami Trail at the Shark Valley Visitor Center. Various hiking tours are available. The Gulf Coast Visitor Center gives canoers access to the Wilderness Waterway, a 99-mile canoe trail that extends to the Flamingo Visitor Center. On most of the nature trails, there are elevated or raised walkways and observation towers above the marshes. Camping is available year-round.

Southwest Florida; Fly into Ft. Myers (RSW) and have easy access to Naples, Sanibel and Captiva Islands, which have miles of beaches, parks, golf, tennis, kayaking, biking trails and activities for everyone. Naples Fifth Avenue and Third Avenues are a foodie's dream with many dining venues from Asian, Italian, French, Greek, Caribbean and more. Upscale shopping, art galleries, museums, cafes, city dock and of course – the beaches, are all within walking distance.

You also have easy access for day tripping by ferry to Key West from Ft. Myers and Marco Island. Go for a day trip or spend several nights, the choice is yours.

Ready to plan your escape to South Florida or another destination?! We're ready to help at Donna Salerno Travel, contact us today to book your adventure; we've traveled the world. Connect with us on Twitter, Face Book or Donna Salerno Travel You Tube Channel for more travel inspiration.