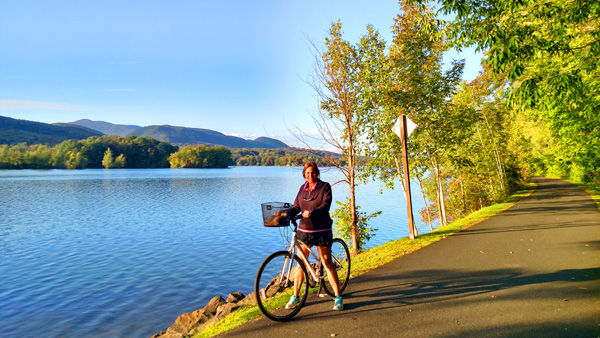 Hiking and biking has grown in popularity over the last few decades. More cities have created dedicated  trails and bike paths.
For travelers, this is a great trend since it makes their trip more enjoyable.
Here are some of our favorite trails. Certainly not a complete list, but easy enough for all members of the family. Also, the kind of trails used by walkers or bike riders, and where there are plenty of beautiful views and stops along the way.
CANADA
Niagara Falls:  <Click For Trail Info>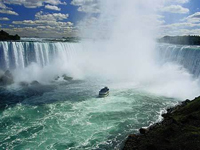 This a 50 kilometer return route that runs from Niagara on the Lake, thru the Falls area on on to  Fort Erie. The trail is paved, follows the river with wineries and historic sites along the way. For those that want a longer ride, it connects to a circular route that follows the Welland Canal ship by-pass route from Lake Erie to Lake Ontario. See Destination Info
Toronto:  <Click For Trail Info>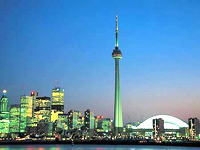 The city has many multi-purpose paths, but the most scenic is the Martin Goodman Trail that follows the shoreline from the Huber area to downtown. When you see all the traffic, you will be happy you are riding your bike. See Destination Info
Montreal: <Click For Trail Info>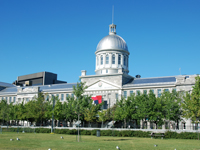 :
Hundreds of kilometers of bicycle lanes and trails along with over 5000  rental bikes,  establishes this city as one of the leaders demonstrating what can be done to facilitate and promote cycling and a healthy lifestyle. See Destination Info
---
USA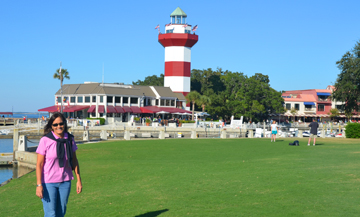 Hilton Head, SC: <Click For Trail Info>:
This is a spectacular biking destination with over 60 miles of bike paths and even more unique is riding on the beach at low tide. See Destination Info
Jekyll Island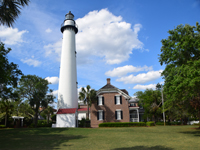 & Saint Simons Island,GA: 
These two island are steeped in history, and along with spectacular beaches provide an exceptional experience. See Destination Info
Orlando Orange Blossom Trail, FL: <Click For Trail Info>
A short drive from the Magic Kingdom is a world-class rail trail through urban and suburban sections of Orange County. See Destination Info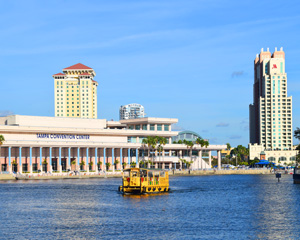 St Pete – Pinellas Trail, Fl: <Click For Trail Info> 
This 35+ mile linear park and recreation trail extends from St. Petersburg to the Greek town of Tarpon Springs, with plenty of  enjoyable stops along the way. See Destination Info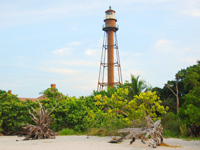 Sanibel Island Trail, Fl: <Click For Trail Info>: 
Over 22 miles of paved trails, much of it shaded and off -road, with a wildlife tour through the J.N. "Ding" Darling National Wildlife Refuge. See Destination Info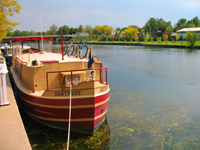 Erie Canalway National Heritage Corridor, NY: <Click For Trail Info>:
This 500+ miles trail, connects the original Erie Canal Towpath and former railroad route with towns along a scenic countryside.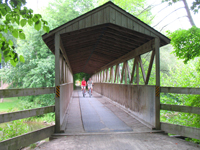 Kal-Haven Trail, MI: <Click For Trail Info>
The State Park trail is a 34-mile crushed limestone path connecting South Haven and Kalamazoo.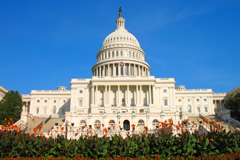 Mount Vernon Trail,  Washington DC: <Click For Trail Info>
Wonderful  36 mile bike trail along the Potomac River to visit George Washington's Estate. See Destination Info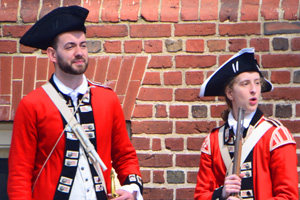 Ashuwillticook Rail Trail, MA: <Click For Trail Info>
Explore the Berkshires on this old railroad track through the historic towns along the Cheshire Reservoir and the Hoosic River.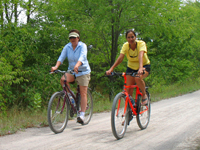 Greenbrier River Trail, WV:  <Click For Trail Info>  
The lightly trafficked 75+mile linear trail is good for mountain biking. and walking with scenery and wildlife.
---
ACTIVE

 TOURS
We cover the world with Guided and Self-Guided Active Tours.
We take care of the air, hotels, transfers, meals … and the bikes! Just arrive, pedal …and enjoy.
Or if you prefer you can kayak, hike or walk different destinations worldwide. It's the soft adventure approach and we're here to help. Let us know your destination and we'll customize a the trip for you, including gourmet dining and spa treatments.
Here are just a few of the destinations you might enjoy. Contact us today for more information.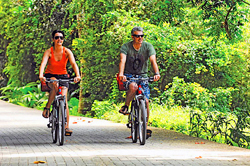 Alsace, France:
Ride on winding roads through vineyards and historic towns, visit beautiful villages and enjoy a wine tasting across the border in Germany.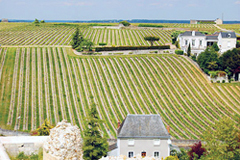 Bourdeau, France:
 Cycle through vineyards of the Médoc, with fabulous châteauxs and some of the world's legendary wines.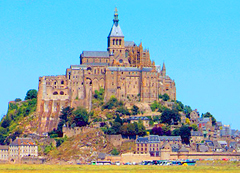 Rhône River, France:
A panoramic corridor with historic riverside cities like Avignon, St Remy de Provence, and Lyon on this marvelous voyage of discovery.