Capital Cities and Niagara Falls
10 Days


Your tour of eastern Canada features Montreal, Quebec City, Ottawa, Toronto and Niagara Falls; each with distinctly diverse cultural backgrounds. Stay at premier Fairmont hotels, each a historic landmark in itself, along with visits to Quebec's Montmorency Falls and Ontario's Niagara Falls. Special experiences include a cruise on the St. Lawrence River among the Thousand Islands; and a close-up look at one of the world's most iconic sites, the thundering waters of Niagara Falls.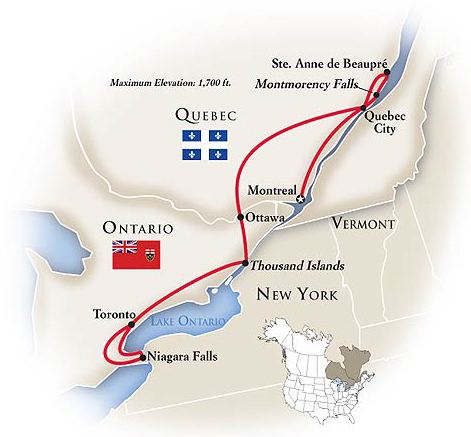 Day 1 – Bonjour / Welcome

Montreal is the second-largest French-speaking city in the world after Paris and the jumping-off point for your eastern Canada and Niagara Falls vacation. Meet your fellow travelers at the welcome cocktail reception and dinner at your landmark hotel in the heart of the city.


Day 2 – Romantic Montreal
With its dual English and French cultures, Montreal is one of Canada's most unique – and romantic  cities. A morning sightseeing tour includes McGill University and Mont-Royal, plus a visit to Notre Dame Cathedral. Spend the afternoon as you please – take a stroll through the Botanical Gardens, check out some of the city's fine museums, or explore fascinating underground Montreal, virtually another city beneath the streets.
Day 3 – Montmorency Falls and Quebec

Depart Montreal and set out through lovely Quebec landscapes along the St. Lawrence River to magnificent Montmorency Falls; which at 272 feet high, are higher than Niagara Falls. Have lunch beside the falls before visiting the Shrine of Ste. Anne de Beaupré and its famed basilica, then continue on to the heart of French Canada, Quebec City. Sprawled atop sheer cliffs rising above the narrowing St. Lawrence River, Quebec's four-century-old provincial capital reflects an old-world charm and grace of another era – and your historic hotel, where you'll spend the next two nights, sits high on a bluff overlooking the river.
Day 4 – Historical Quebec City

Your vacation takes you on a sightseeing tour of the hemisphere's only walled city north of Mexico; this old-world gem celebrated its 400th birthday in 2008. With its provincial Parliament buildings, Porte St-Louis, cobbled streets, charming open-air cafés, and ancient stone houses huddled beside venerable churches, old Quebec evokes memories of a typical city of 18th-century Europe.
Day 5 – Journey to Ottawa
From Quebec City, travel a route used by early French explorers and fur traders along Quebec's eastern shores; stop for a guided tour of the stables of the Royal Canadian Mounted Police en route to Canada's capital city of Ottawa, perched on the banks of the Ottawa River. See Ottawa's magnificent boulevards and tree-lined streets, beautiful flower gardens, and the regal architecture of its stately government buildings. Spend the next two nights at the landmark Fairmont Château Laurier, reminiscent of a French château.
Day 6 – Canada's Capital

The morning's sightseeing in Ottawa includes views of the Royal Canadian Mint, National Research Center, City Hall, the residence of the Prime Minister, and Rideau Hall, Changing of the Guard, the governor-general's home and the acclaimed Museum of Civilization.
Day 7 – Cruise the Thousand Islands of the St Lawrence
Head south to the St. Lawrence River for lunch and a cruise among the lovely Thousand Islands, home to simple summer homes and opulent mansions. Arrive in multi-cultural Toronto; Ontario's largest city is a dynamic metropolis with a wide variety of ethnic neighborhood villages, a vibrant waterfront, and myriad cultural attractions. A historic landmark in the center of the city, your home for the next three nights was the British Commonwealth's largest hotel when it opened in 1929.
Day 8 – Majestic Niagara Falls

Continue your tour to Niagara's famous falls. View this natural wonder from high above, then descend to the churning waters of the Niagara River and board the famous Maid of the Mist for a cruise and close-up encounter with the thundering falls. Pass such world-famous sights as Table Rock, the Floral Clock and Whirlpool Rapids on a drive along Niagara Gorge en route to lovely Niagara-on-the-Lake, one of the best-preserved historic towns in North America.

Day 9 – Tour Toronto
Consistently ranked among the best cities in the world in which to live, Toronto is Canada's most populous city, as well as its financial, cultural and entertainment capital. Explore it on a guided sightseeing tour that includes the downtown and residential areas as well as the grand Parliament Buildings and the University of Toronto. Visit one of the city's most visible icons, the CN Tower, the tallest freestanding structure in the world.

Day 10 – Bye for now
Your tour ends in Toronto or you might consider extending your stay. If you are a sports fan there is plenty of action here with hockey (Canada's national sport), basketball, baseball and football. Or head north to the lake district for a little fishing.