Once a Greek colony, a Roman province, an Arab emirate and a Norman kingdom, Sicily has been both a prize and a melting pot of cultures for 6,000 years. The heritage and history of this exquisite island is reflected in the spirit of its towns and villages, each unique and full of character. Explore Sicily's ancient temples and Baroque churches. The history, cuisine and culture of sun-drenched Sicily is sure to seduce those who take this unforgettable Italian island journey.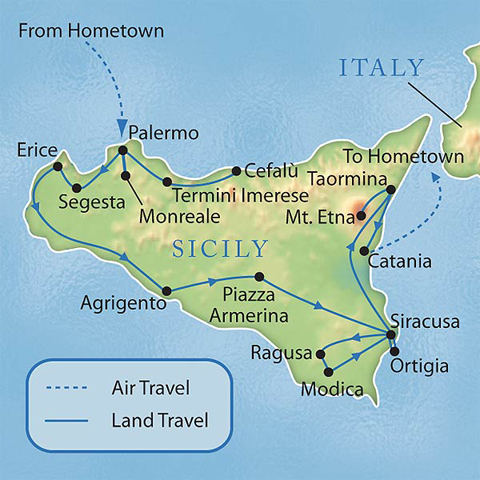 Day 1 – 3: Palermo, Sicily
Upon arrival in Palermo you will be met and transferred to your hotel. 
On Day 2: Explore Palermo, including the lively Arabian-style Capo Market, ancient Porta Carini, the old city gate, Piazza Pretoria, and the Spanish baroque palaces at Via Maqueda. Drive to Monreale for a tour of glorious Arab-Norman art and architecture, and on to the charming coastal town of Cefalù, home to a massive Norman Cathedral with outstanding mosaics.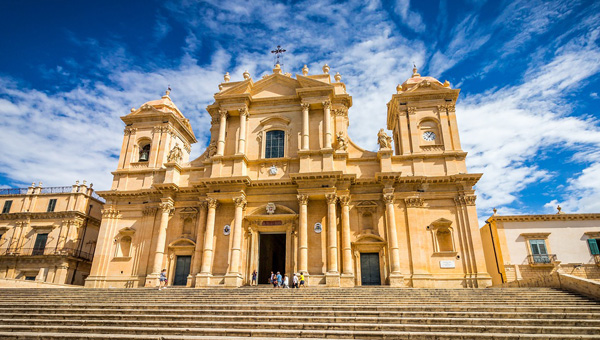 A full day tour on Day 3 takes you west to the medieval town of Erice, famous for picturesque ancient streets, homemade pastries, and sweet marzipan. Tour the historic salt pans in Trapani, and enjoy a savory farmhouse lunch. Next, visit Segesta and the unfinished 5th century BC doric temple to take in commanding views of the area, followed by a visit to a local Sicilian winery.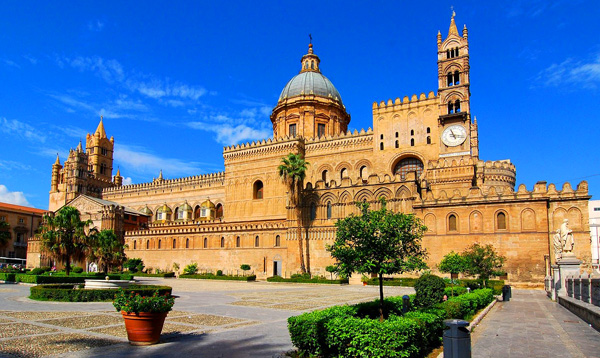 Day 4 & 5:  Agrigento, Modica, Ragusa, Noto & Siracusa
Drive through the interior of the island to Agrigento and its amazing ancient temples, erected by the Corinthians in 735 BC.

On Day 5: Tour the surrounding UNESCO World Heritage Sites and villages and visit the Iblean mountain town of Modica, an agricultural center famous for its chocolate which is made from an ancient Aztec recipe.
In Ragusa Ibla – the once-abandoned historic center of Ragusa – a walking tour reveals a wide array of baroque architecture, including several stunning palaces and churches. In Noto, famous for its 18th century honey-colored buildings, you'll find even more masterpieces of the Sicilian baroque style.

Day 6 – 8: Siracusa, Taormina & Catania
On Ortygia Island, stroll through the streets of Siracusa and visit the Greek theater and Roman amphitheatre in the Archaeological Park before you drive to the resort town of Taormina.

On Day 7: Take a full-day four-wheel-drive adventure to explore Mount Etna – see the Thieves Cave, the extinct craters of the Sartorius Mounts, and the lava flow from the 2002 eruption. After a tasty lunch of Sicilian farmhouse dishes, continue your off-road drive along the Linguaglossa-Castiglione and Alcantara gorges, stopping to explore the canyon entrance.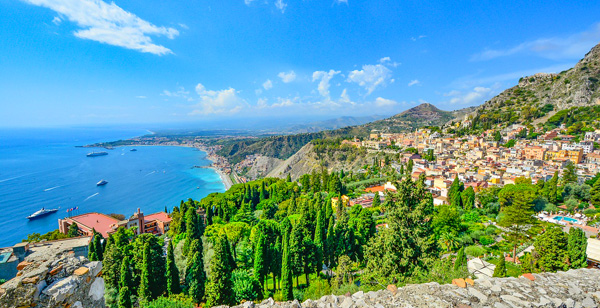 On Day 8: You will be transferred to the Catania airport for your flight home or on to your next destination.