Discover the best of a trio of South American countries on a journey that reveals this splendid region at its most remote and beautiful. Meet a family living on a floating island on Lake Titicaca, explore the Uyuni Salt Flats and view ancient petroglyphs.


Day 1 – Arrive Lima, Peru
Your tour begins in Lima where you are met at the airport and transfer to your hotel.

Day 2 – Lima and Larco Herrera Museum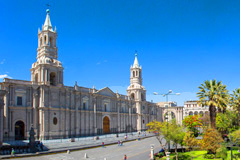 Tour Lima and explore the Larco Herrera Museum, a rich repository for pre-Columbian artifacts. Later, gather for a welcome cocktail and then dinner at Huaca Pucllana Restaurant.

Day 3 – Lake Titicaca
Fly to Juliaca, then proceed to Lake Titicaca and your hotel. After lunch, embark on a rowing excursion on the lake. Return to the lodge for an evening cocktail, and then join your fellow guests and on-site interpreters to share tales of highland experiences.

Day 4 – People of the Floating Islands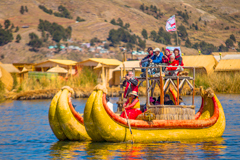 Travel to the legendary Uros Floating Islands to meet a local family. Learn about their proud culture and impressive uses for totora reeds. After lunch you may opt to bike the country roads along the lake. Dine tonight at your hotel.

Day 5 – Hydrofoil Cruise to Bolivia
Board a hydrofoil to Moon Island and visit Iñak Uyul, the Sun Virgins Temple. Continue to Sun Island where you visit the Inca Staircase. Stop for lunch at a local restaurant, and then visit a handicraft market. Cruise to Copacabana and view the shrine of the Dark Indian Virgin. Later, meet the Limachi family, builders of the RA II and Tigris expedition vessels. Transfer to La Paz, Bolivia.

Day 6 – La Paz
Tour Bolivia's capital, La Paz, then visit the Witch Doctor's Market and view the lunar-like Moon Valley.

Day 7 – Uyuni – Where Land and Stars Meet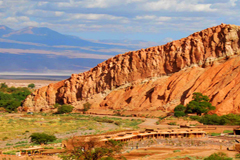 Fly to Uyuni and explore the largest salt flat on earth. Pause for lunch on the salt flat, as your chef prepares dishes adapted from local cuisine. Then, visit Isla Pescado, an oasis of giant cacti. Tonight at your hotel, revel in a fantasy of sparkling starlight, as land and sky seem to merge on the mirrored salt lake.

Day 8 – San Pedro de Atacama
Journey through the Altiplano to visit the Red Lagoon, famed for its pink flamingos. Continue to Sol de Mañana, a spectacular geothermal field. Proceed to the Green Lagoon for a perfect view of Licancabur Volcano. Travel on to Hito Cajón and settle into your hotel. Tonight, enjoy a private candlelight dinner and guided stargazing beneath a night sky stunning in its clarity and profusely filled with a wealth of celestial wonders.

Day 9 – Stunning Salt Lake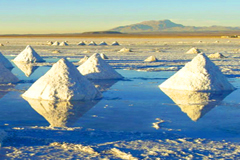 Head out into the Atacama Desert to the beautiful Cejar Lagoon. Bike to view its white edges of crystallized salt and intensely turquoise colored water. After lunch at the hotel, tour the Atacama Salt Flat, stopping briefly en route to visit the village of Toconao.

Day 10 – Pristine Andean Lagoons
Stop at the village of Socaire, where you meet a local farmer and see at firsthand the unique crops produced in the area. Continue to the high Andean lagoons of Miscanti and Miñiques. This evening, gather around a campfire for a barbecue dinner and a performance of traditional Andean music and dance.

Day 11 – Santiago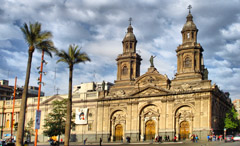 Fly to Santiago, capital of Chile, and transfer to your hotel. Tour the city and ride the funicular railway to the top of San Cristobal Hill. Stroll the Pueblo de Los Dominicos Handicrafts Market and meet a local crafter. Enjoy a gourmet snack prepared by Chilean Chef Maria Jose Neut. This evening, gather for a farewell dinner. Take a side trip to picturesque Valparaiso and Vina Del Mar on the ocean.

Day 12 – Depart
Enjoy a day of leisure then transfer to the airport for departure.

Click Here To Plan Your Vacation