Your ultimate 21-day Australia & New Zealand tour includes desert Outback, tropical rainforests, a four-mile beach, coral reefs, glacier-capped mountains, dramatic fjords, and cosmopolitan cities. Bring plenty of film to capture the amazing sights of the Great Barrier Reef, the dramatic waters of Milford Sound, and the setting sun on Ayers Rock. From breakfast with koalas to a green-lipped mussel cruise, a jet boat ride, a formal garden tour, silver service elegance in the Outback, and a private Maori cultural experience, you'll experience a great taste of Down Under life enhanced by exclusive business-class charter flights throughout New Zealand!

Day 1 – Melbourne and the start of your Australia tour
Welcome to Australia, where friendly G'days greet you from arrival to departure! Join us for a welcome reception and dinner tonight as you meet your traveling mates.

Day 2 – Melbourne's Victorian charms

You'll see a lot of Melbourne on a sightseeing tour of the city, including St. Patrick's Cathedral, the beautiful Royal Botanic Gardens and the ANZAC War Memorial – the Shrine of Remembrance. The city is also home to the oldest tram network in the world; experience it up-close tonight when you dine aboard the Colonial Tram Car Restaurant as it travels around the city.

Day 3 – All about Uluru (Ayers Rock), Australia tour highlight
 Fly to Alice Springs en route to Uluru (Ayers Rock) for an two-night stay. Settle into your Outback resort and join us for a "silver service" champagne party at Uluru; while the celebration by itself is very special, wait until you experience it under the setting sun when the light bathes the mystical rock with a palette of ever-changing color.

Day 4 – Aboriginal adventures in the Outback
Aboriginal traditions define life in the Outback, especially at Uluru. Learn about the  "dreamtime" legends associated with this massive monolith on a guided tour. Nearby, the many-headed Kata Tjuta (The Olgas) awaits your discovery; hear stories about the 36 gigantic rock domes that are found here and explore mazes and crevasses steeped in local lore.

Day 5 – Off to Queensland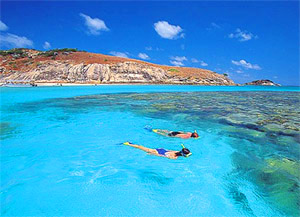 Spend a free morning at Uluru where you'll have an opportunity to do some more exploring. Your Australia tour continues with a flight north from the red desert to the tropical rain forests of Queensland. Arrive in Cairns and continue on to your resort in Port Douglas.

Day 6 – Life at the Great Barrier Reef
Spend a full day exploring one of earth's most incredible "living" sites, the Great Barrier Reef, on a catamaran cruise aboard your Quicksilver ship. Marvel at the colors and beauty of the coral and fish while swimming, snorkeling, or engaging in a variety of water activities. Spend the evening at leisure back at your hotel.

Day 7 – Your Australia tour takes you to the rain forest
Your resort is close to many natural wonders, including a mist-shrouded tropical rainforest. Ride a gondola through the lush jungle landscapes to the mountain village of Kuranda, before returning to the resort for some free time.

Day 8 – Optional balloon ride and on to Sydney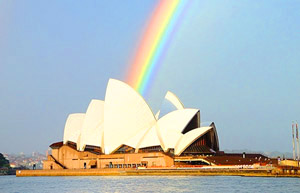 Soar over the Atherton Tablelands on an optional early morning balloon ride or spend the morning at the resort at your leisure. Everyone takes off for Sydney late this morning for a four-night stay in the heart of the city. Your hotel is within walking distance of the Botanic Gardens, shopping and restaurants.

Day 9 – Sightseeing in Sydney
One of Australia's most famous iconic sights takes center stage today when you visit the Opera House on a personally guided tour. A private luncheon cruise on Sydney Harbor is a fabulous way to unwind and relax, while getting a good look at some of this extraordinary city's landmark sites from the water. City sightseeing continues as you view The Rocks, Kings Cross and surfing heaven at Bondi Beach.

Day 10 – Breakfast with Koalas

Have breakfast with the koalas this morning at the Featherdale Wildlife Park, before heading off into the Blue Mountains National Park. A scenic wonderland surrounds you here, chronicling life that began centuries ago in ancient ferns and fossils, like the Dinosaur Tree, thundering waterfalls and forested canyons. You'll have an opportunity to spot Australia's iconic resident the kangaroo in natural surroundings, then have a champagne toast to celebrate today's outdoor adventures in style!

Day 11 – Sydney your way, all day
There is so much to see in Sydney, and so many ways to do it, that the entire day is free to explore and dine as you please – Sydney's got it all. From museums to shopping, from Aboriginal art to an array of Australian and international dining options, you'll find many ways to spend the day and make it memorable!
Day 12 – Farewell to the Australia tour, hello to New Zealand
Your grand Australia tour comes to an end as you bid a final farewell and board a flight across the Tasman Sea for your grand New Zealand tour! First stop is Auckland, the City of Sails, where your hotel is located in the heart of the city. Dine a la carte at the hotel's award-winning Barolo restaurant, voted the best in the city.

Day 13 – Wonders of Waiheke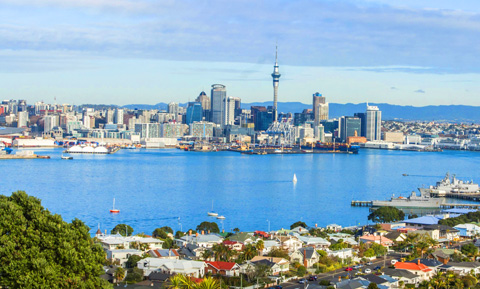 Board a ferry for a ride to Waiheke Island for a day of natural delights. An island tour includes a close-up look at sugar-sand beaches, fertile farmland and some of the region's top wineries. A special lunch at Mudbrick Vineyard entices with a taste of regional delights. The remainder of the day is spent on your own back in Auckland.

Day 14 – A day of Maori traditions
Travel to Rotorua today, rich in geologic history and Maori traditions. Have lunch at a working farm and country garden to experience an authentic glimpse of daily life and spend the afternoon at the Te Puia Maori Cultural Center. A private welcome presentation includes poi dancing and a moving rendition of the haka. Stroll through an array of cultural arts exhibits amidst bubbling mud pots and thermal geysers.

Day 15 – Mussels on Marlborough Sounds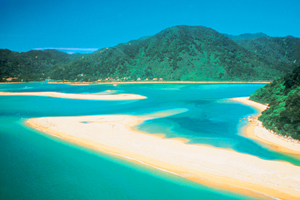 Feel like a privileged member of the jet set today on your charter plane, at your service. Our exclusive charter flight takes you first to Blenheim and the Marlborough Sounds on New Zealand's South Island. Besides producing great wine, this island boasts delectable freshly caught seafood, including green-lipped mussels. Sample them on a luncheon cruise that celebrates the bounty of land and sea before flying off to Wellington on an exclusive charter. Stay two nights at an ideally located waterfront hotel.

Day 16 – Historic Wellington
Your New Zealand / Australia tour continues in a city known for its scenic beauty and its amazing five-story national museum. Touring the Te Papa Tongarewa National Museum is like actually experiencing thousands of years of New Zealand's history in person as motion simulators and interactive exhibits include you in the journey. The remainder of the day is free to make your own history.

Day 17 – Cruise on Milford Sound and fly to Queenstown

Weather permitting, glimpse Mt. Cook from aboard our exclusive charter as you fly to Te Anau for a scenic drive and luncheon cruise on beautiful Milford Sound. One of the benefits of flying on our charter plane is the ability to circle sights you want to see; if feasible, our pilot will soar close to the mountain for you to get a better look.  Fly on to Queenstown where your hotel enjoys a premier city-center address overlooking Lake Wakatipu.

Day 18 – Jet-boat on the Shotover River Canyon
Even if you're not all that adventurous, today's thrilling high-speed jet-boat ride down a river carved through the narrow, rocky gorges and canyons of Shotover River Canyon will be a highlight of your New Zealand / Australia tour!

Day 19 – Tea at a sheep farm and a flight to Christchurch
A leisurely cruise aboard a vintage steamer takes you to Walter Peak Farm for afternoon tea and a sheep-shearing demonstration for a true taste at life on the farm!  This afternoon's flight takes you to the garden city of Christchurch, where gracious willow trees line the banks of the Avon River.

Day 20 – Cultural discoveries in Christchurch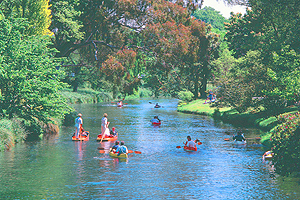 Spend the day discovering the quintessential sights of the "most English city outside of England." Manicured gardens and parks share verdant squares with stately Victorian architecture that presides over the city's riverfront setting. Cultural delights are not limited to land. Experience a punting excursion on the Avon River aboard a traditional flat-bottomed boat typically found on English waterways in Oxford and Cambridge; your punt is expertly propelled by an Edwardian-garbed punter, pole in hand. Say hooray to your friends from Down Under at our farewell dinner tonight.

Day 21 – So long to the lands Down Under
Your New Zealand and Australia tour ends in Christchurch. Fly home anytime