Explore the unspoiled beauty of Denali National Park, kayak the tranquil Fjords and fish in crystal clear water.
California Wine Tour & San Francisco
Tour San Francisco and the wine region in leisure and style. Enjoy the best California wines from Pinot Noir to Cabernet Sauvignon with exclusive tastings at the most notable vineyards.
Miles of white sand beach, warm water, fishing, yachts and sun. Family entertainment and resorts. Golfing, diving, sunsets and walks on the beach await you.
Perhaps the most visited tropical destination in the world … and for good reason. Sandy beaches, palm trees, volcanoes, scuba diving, luxury resorts and villas.
Enjoy island life with golfing, biking, water sports and more. Visit the historic antebellum homes of Savannah, Charleston and Beaufort.
Shows, casinos, spas, dining, shopping, golf … there is plenty to entertain you. A trip out of town will take you to the Hoover Dam and the Grand Canyon and more.
The historic French Quarter has over 100 square blocks of art, dining, shopping, entertainment and architectural treasures. No city loves music more. The rhythms fill the streets, clubs, churches and concert halls.
One of the most visited and revered cities in the world. A major financial hub, center for performing arts, cultural icon and much more.
With so much to offer it is a challenge to see it all in one stop.

One of the world's most popular family destinations, Orlando offers something for the whole family.
Theme parks, golf, spa, luxury resorts, wildlife, beaches … the list is endless.

Greater Palm Springs is South California's most seductive and spirited escape for visitors in search of relaxation, adventure, pampering and entertainment. Nine distinct cities make up the serene oasis including Palm Springs, Desert Hot Springs, Cathedral City, Rancho Mirage, Indian Wells, La Quinta, Indio and Coachella.
Take an invigorating ride along Puget Sound, smell the Evergreens and watch the whales swimming.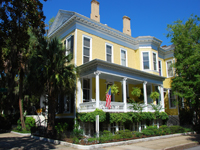 Savannah is the old-south at it's best. Known for its antebellum architecture, relaxing parks and horse-drawn carriages. Stroll the cobblestone historic district and visit the active river front.
This collection of exotic islands has been the home of the world's elite, pirates and intrepid travelers for centuries.
More than just The Capitol of the USA, this vibrant city offers history, architecture, museums, science, fine dining and more.