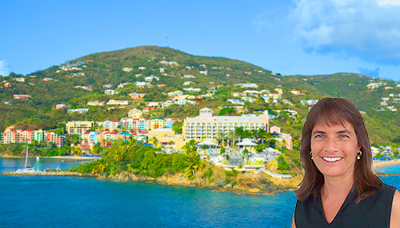 Tropical and diverse, the Caribbean offers many cultures and destinations.
Dive, swim, sunbathe, shop or have a nap on a sunny beach, it's all here.

Serenity-seeking sophisticates appreciate Anguilla. With luxury hotels & spas, cultural attractions, and exciting land & water sports, this island will delight you during your vacation. Whether craving fresh lobster, West Indian food, or Continental fare, you'll find it all in delectable Anguilla.
Expect balmy weather, beautiful beaches, a wildlife preserve and botanical gardens.
Home to some of the best Caribbean resorts and where luxury and nature merge in harmony.

The BVI's flawless beaches are virtually deserted during the day, yet tiny crowds gather nightly for rum and relaxation at waterfront bars. Water lovers swim and snorkel in virgin Gorda's Baths, saltwater grottoes formed by volcanic boulders, and dive off Anegada, the only coral atoll in this British Crown Colony.
The reefs around the Cayman Islands teem with brilliant colored fish perfect for diving or snorkeling in pristine water. Visit the Turtle Farm, feed stingrays, shopping by day and enjoy steel-band concerts at night.

One of the few unspoiled destinations in the world, taking you back to a time when life was simpler and more peaceful. Genuine charm and hospitality radiates from it's people. From Nevis Peak to the clear blue waters of the Caribbean, with everything from monkeys to whales awaiting your discovery.
Once the hideaway of Rothschilds and Rockefellers, St. Barths today is a favorite haunt of celebrities and other high-profile types from December through April. French in attitude and accent, the island offers 14 uncrowded, ultra-clean beaches.

The Emerald Isle of the Caribbean is home to the verdant Piton Mountains, tropical rain forest, a waterfall that changes colors, and a drive-in volcano. Beaches, marine life and ancient shipwrecks lure water lovers to St Lucia.

In French St. Martin you'll find less-crowded beaches and fabulous restaurants. Cruise ships dock at the Dutch capital, Philipsburg, which boasts hundreds of duty-free shops, golfing, casinos, and exciting nightlife.

Comprised of some 40 small islands, Turks and Caicos attract scuba divers, snorkelers, swimmers, and sports fishing enthusiasts. The 200-mile-long coral reef – the world's third largest—draws visitors to the archipelago's magnificent Caribbean underwater world.
This collection of exotic islands has been the home of the world's elite, pirates and intrepid travelers for centuries. With year round tropical weather, it is an endless vacation. Luxury villas and resorts provide the perfect haven for your vacation in the tropics.