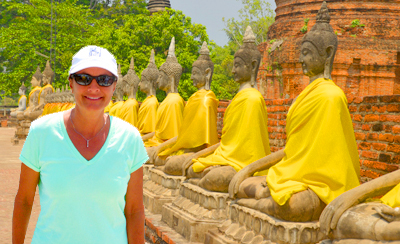 It's time to take a look at the 2017 travel trend destinations. So much has happened this year to effect your plans. Travelers are looking for safe, adventurous and family friendly destinations.
Sure, its tempting to want to go back to the old favorites, but what about discovering someplace new? Somewhere off the beaten path, a travel destination yet to be fully discovered or an experience only few will ever tick off their bucket lists? Here are the 10 best travel destinations in 2017 –put them at the top of your lists and discover something new.

The trip of a lifetime where a stunning landscape is teeming with penguins, seals and whales.
Nature as you have never seen it before or will again.
With its temperate climate & reverse seasons, Australia is a year-round destination, filled with sunshine & packed with plenty to do for outdoor enthusiasts & city sophisticates. From snorkeling to surfing to shopping & dining.

From the charming Maritimes in the east to the stunning Rocky Mountains in the west; there is so much in between to experience in this friendly country. There is also a favorable exchange rate for added value.
From the desert region of the north, to cosmopolitan Santiago, to the fjords of Patagonia in the south, the country is as breathtaking and as the people are diverse.
Eco- Friendly : Ecuador & Galapagos

Visit Ecuador to discover why people are putting this on the top of their 'must see' list. Quito was the first city to be named a UNESCO site. The Galapagos Islands; where travelers experience a step back in time to visit an isolated, relatively untouched paradise on earth.
Perhaps the most visited tropical destination in the world … and for good reason. Sandy beaches, palm trees, volcanoes, scuba diving, luxury resorts and villas.
Plan your vacation to Paradise today!
Discover the diverse wonders of Indochina. Traverse this emerging region for an authentic Asian experience. We  customize your itinerary to your preferences.
Many people you meet on your travels will regard New Zealand as their #1 dream destination. Geographically isolated with relatively untouched wilderness, it's not hard to see why. Lord of the Rings had a significant impact and it remains a top pick for travelers.
If there's one travel experience that trumps them all, it's a safari. South Africa is really embracing tourism and welcoming visitors to their unique country for some of the best wildlife watching in Africa. Its' neighbors too have amazing wildlife safaris on offer, but rest assured you will have a strong chance of seeing the Big 5.
Think over water bungalows, pristine beaches, crystal clear water and dive into Tahiti. Exciting Polynesian history to discover with wonderful island tours, snorkeling and diving trips, unique island experiences and a whole lot of relaxation await you.