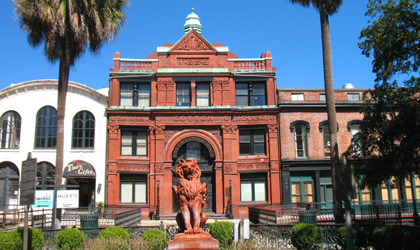 Savannah is the old-south at it's best. Known for its antebellum architecture, relaxing parks and horse-drawn carriages. Stroll the cobblestone historic district and visit the active river front.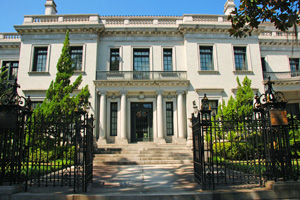 Historic District

Covers the area of the city limits prior to the Civil War. This National Historic Landmark District  is one of the largest of its kind in the United States.
It features 18 and 19th century architecture with many parks and a god selection of restaurants and shops.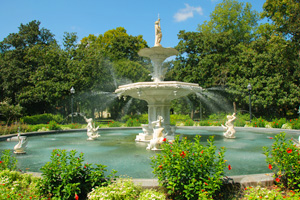 Forsyth Park

Covering 30 acres featuring walking paths, basketball & tennis courts and hosts outdoor concerts and special events.
It is modeled after the Parisian style of urban planning creating residential areas radiating out from a central green space.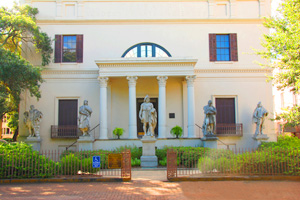 Telfair Museums
Telfair Museums, are the oldest public art museum in the Southeast, opening its doors in the 1880s.  Three architecturally-significant buildings with a permanent collection of more than 4,000 works of art from America and Europe, dating primarily from the 18th-21st centuries.

Located in the historic district, the museum consists of the Telfair Academy, the Owens-Thomas House circa 1820 and the contemporary Jepson Center.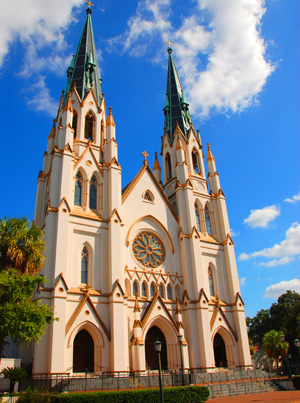 Cathedral of St John
The Cathedral of St. John, built in 1896 in the Gothic Revival style, is known for it's iconic spires.

French settlers from Haiti were the first Catholics to settle in the area.