Kind Words & Testimonials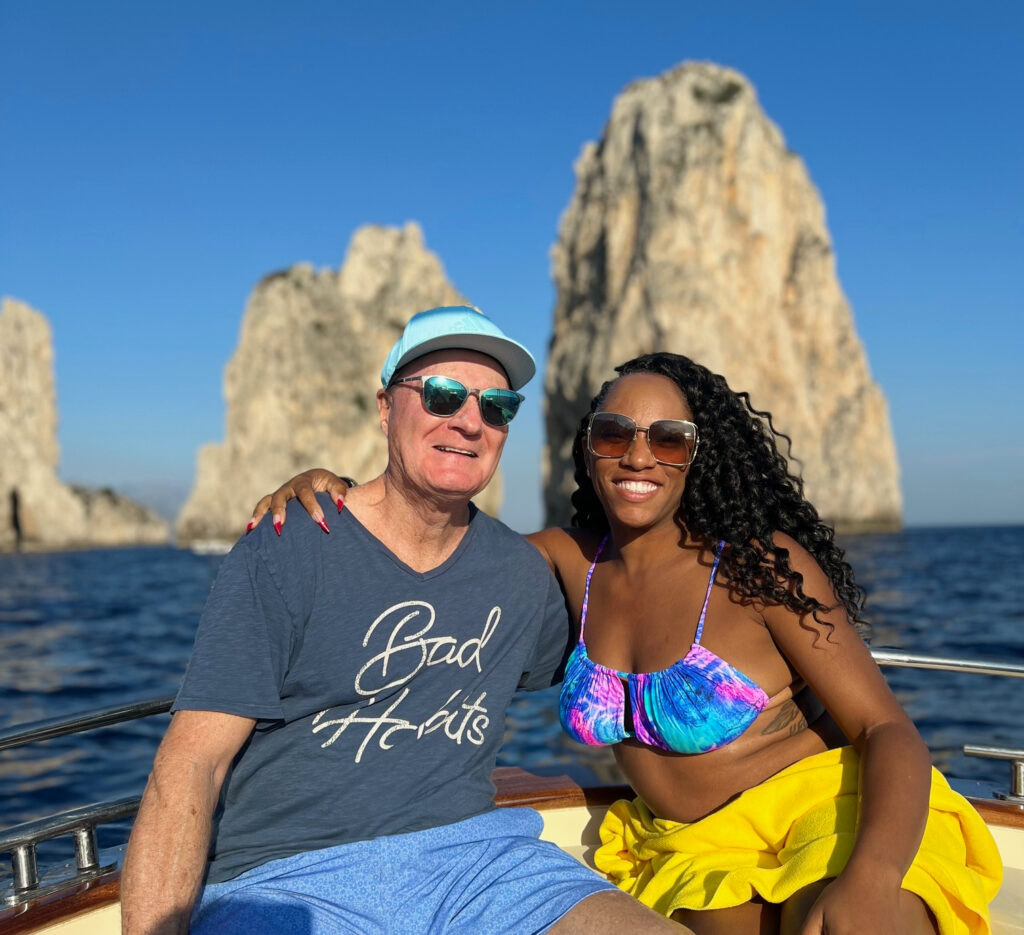 Capri, Portofino & Positano, Italy
Fantastico!
Loved our trip to Portofino & Positano, Italy!  Your hotels, transfers and tour selections were all first class.  Fabulous locations and excellent services. You planned the best itinerary with fun activities along the way.  Read: coastal boat rides, Capri tour, and cooking class.  It was the perfect balance of touring and leisure time for us.  Looking forward to our Croatia adventure next. Donna is super responsive and took a lot of the planning off our plate.  Just relaxed and had a fantastic time.  We recommend her to anyone looking for a smooth and luxurious vacation experience.
Rick & Khris
October 2023
---
BOLOGNA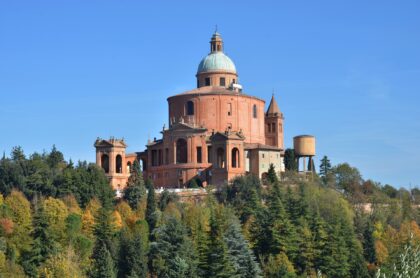 Donna,
I've been meaning to email you but getting caught up after so much time away has kept me overly busy.  We had a great time in bella Italia!Fabulous meals, great sight seeing, people watching, etc.  I'd have a hard time picking out one single favorite thing.  The cooking experience with Rita in Bologna was excellent.  She was a great guide and gave us not only a food tour, but a cool behind the scenes city tour and a "family meal" at her home with her entertaining husband.We went to Christmas mass at the Basilica San Domenico in Bologna where the friars were chanting and the atmosphere was incredible!
Rome was fantastic and our tour guide Franca was very entertaining, funny and thorough.
All in all, a great trip chock full of memories.  Thank you so much for making it happen so well and so smoothly.  Happy New Year.
PS – I ended up wishing we could have had the two extra days to really see Florence and do the wine tour.  But that's something for next time.Ciao!
P Family Trip to Italy
---
TAHITI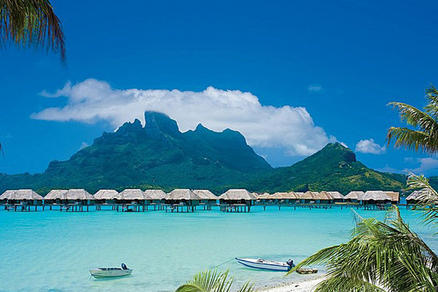 Hi Donna.
We are now at home and almost caught up with all the things that needed attention as a result of our extended stay in Tahiti. Having to deal with getting a new passport was a major vacation upheaval and I want to thank you for the extraordinary help you provided to change our itinerary, liaise and coordinate with the airlines, the insurance company and SOS Travel.
One of the aspects that motivates us to call you for our vacation planning is that you exceed our expectations. You did just that! The accommodation in French Polynesia was wonderful. Visiting Tahiti, then Moorea and finally Bora Bora was a great plan; each island seemed like a new vacation with something different to experience and explore. We wouldn't have changed anything.
Your seemingly small recommendation to visit the local food trucks for dinner when we were in Papeete was really a fun idea, so much so that we did it a couple of times.
However, where you really shone this time was when we reached out to you in a panic to help deal with my passport. So many times during the ordeal Susan and I remarked how having your help was absolutely crucial to paring down the list of things we had to deal with to get home.
If we didn't already know that your advice and counsel is worth its weight in gold we found another reason and it was a big one!
Many, many thanks.
Robert and Susan
---
TAHITI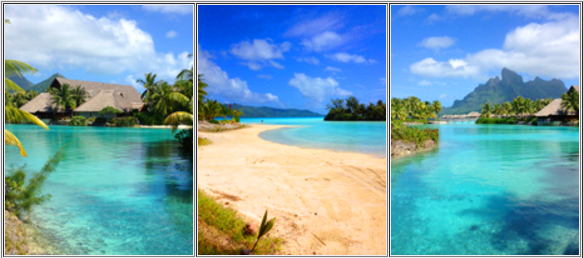 Hi Donna –
We thought we'd seen some pretty nice places, and we have, but Tahiti blew us away. Especially Bora Bora, but everywhere we went we found amazing beauty, fun, peace, and privacy. It was truly a visit to paradise! People were great, food was great, scenery was spectacular, fish were friendly (and hungry!) and the pace was luxuriously relaxed. The whole thing was like a massage for body, mind, and spirit – perfect!
All the little connections went off without a hitch and Air Tahiti particularly impressed with on-time and very comfortable flights. Too many highlights to name even though we never really did anything! One extra nice turn of events was the upgrade we received at Four Seasons on BB to a beachfront villa; 2bd, 3ba, five showers, giant indoor/outdoor bathtub, private infinity pool, private Jacuzzi, and the best part: a private beach! The big secluded backyard, outdoor decks, super comfy furnishings, and beautiful landscaping made this hideout an island of bliss within a blissful island! Totally off the hook.
You made our trip of a lifetime just that, and we can't thank you enough. I've already given your name and info to some of our fellow travelers and won't hesitate to recommend you every time we have the opportunity. Can't wait until the next one (think Maldives!).
Here are just a few photos you may enjoy…mauruuru!
Best;  Greg and Lynn
---
PARIS & LONDON

Hi Donna,
Back from Europe and ready to travel again!
I've been meaning to contact you all yesterday but my boss decided to take his vacation starting today and we were in meetings all day to make sure that I do a few things while he is away. So for me, it's definitely back to reality.
You did a GREAT job organizing our European get-away! From the air flight times, to the pick up to our hotels, to our train ride to Paris, to the tours…. it was all just PERFECT! It was a great experience and we are already looking forward to another get-away for next year. We will DEFINITELY give you a call; we'd like to do a tropical vacation.
D & K
---
GREECE & ISLANDS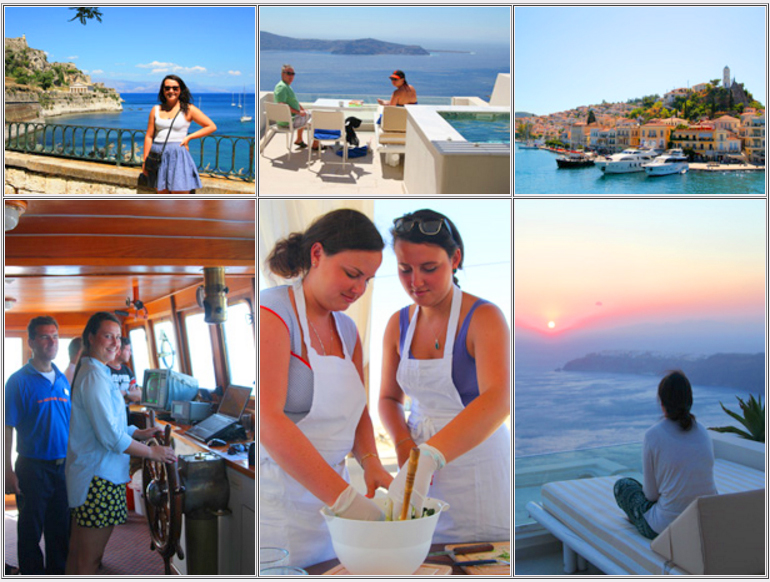 Hi Donna,
Our trip was fantastic!  All the hotels were amazing.  We especially liked the Royal Mykonian Hotel.  They really treated you like royalty.  We also loved the beach they had. We had so much fun at the Mykonos cooking class.  She was such a lovely person and full of great stories.
We loved Mykonos, the town was mesmerizing and great people watching.  A very colorful and energetic place. A very fun town. I think it was our favorite island.  We ate at a great tiny little restaurant called "Katerina's" in Little Venice. Reserve a table on the tiny little balcony for the most incredible view and sunsets ever. Very friendly service. There is also a bar on the top floor with the same view.  We also ate at a wonderful wine restaurant called "Assyrtico" and ordered the same wine we tasted earlier that day.
The Corfu Palace Hotel had the best pool, like being in an estate's back yard with a view of the bay. The town was so pretty also, with lots of great restaurants for dining alfresco and right on the cliffs. Shopping was good also, I bought some beautiful hand embroidered and lacey table runners for a great price at a tiny "stall". They had beautiful linens.
Santorini was nice also. The VIP suites are a must. They have their own large balcony with spa's on them.  The rooms also had separate bedrooms and a sitting room. Oia was a darling town.  We did the fish pedicure there, it was so weird but fun.  It feels like mild tickling.  We did the 10 minute one, but I wish I had gone longer.  We had seen other places that did them, but this was the cleanest, nicest one by far.  It was right on the main drag by the water. Thira had fireworks every night also. They were beautiful.
Athens was amazing.  The ruins are spectacular.  We actually wished we had another day there. There is so much to do and see there. We enjoyed the boat tour of Hydra, Paros and Aegina.  We were invited to join the Captain for refreshments and got to steer the ferry. We paid extra to go on a tour of Aegina. We saw some cool ruins and stunning monastery among other things. It was a great experience. The walking/cooking tour by the Insiders was nice. I probably would have liked to do more touring though. The best tip we got was a restaurant called "Strofi".  A really nice place that if the locals go out, this is where they go. People dressed up for this, but we were in shorts because we got there early straight from the Acropolis and no one seemed to mind.  A reservation is a must though if you want to eat outside. It has an amazing view of the Acropolis, fabulous service also.
All in all a wonderful experience, great hotels, restaurants, shopping and scenery.  I would definitely go back. I am attaching some photos. We took more than 1000 photos so it was hard to choose.
Thank you for a wonderful job planning our trip to Greece! ~ Michele and Family
---
ITALIAN VACATION

Hi Donna,
We had a great trip to Italy!
The hotels were perfect for us. Great locations, excellent service.
Both of our guides were wonderful.  We became especially fond of Paola in Sorrento.  She was very knowledgeable, funny, and just a great person.
I am now busy planning our return trip to New Zealand with a stop over in Fiji.
Again, thanks for all of your help, talk soon.
John & Kate
---
GREEK VACATION

Donna:
Thank you again for planning such a wonderful trip for us.
I just wanted to let you know that Amanda, Jenn and I returned from having an absolutely amazing vacation in Greece. Besides the three of us, we had another couple, Cindy and Don, in our group.
Once again, we were spoiled with a very small group. It worked out well—our tour guide, Maria, who has a Ph.D. in archeology and is certified tour guide, was able to modify the trip based on what we wanted to do since the group was so small. We ended up visiting a few small villages on the mountains, which was absolutely beautiful, and she gave us the scoop on some great restaurants—where we stuffed ourselves silly. And Maria is a wealth of knowledge. She has been a tour guide for 17 years and knows everything and everyone (she was able to get us into the monasteries 30 minutes early before the crowds because the nuns love her!)
I wanted to let you know that we are already talking about our next trip—we would like to go to Ireland and possible add Scotland to that vacation.
Thanks, Michele
---
EUROPE VACATION

Donna:
Trip was very well set-up and it all executed as planned.  I was frankly surprised there weren't more people about than there were, but I 'm told we missed the peak travel season by about 15 days (July/Aug).  Innsbruck was our favorite city and we'd like to have spent more time in and around Munich..  Rain caught up with us in Salzburg, but only for 1/2 of one day was it very hard at all..  Mostly a mist so no real problems.  Weather in Munich and Innsbruck was excellent.   Hotels were all very good choices..   Have some pix attached for you..   You know where these places are so I won't describe them except to say that I fell into a line dancing crowd in Innsbruck, so couldn't resist..  🙂
So overall, great trip…    will be back in touch next time!
JK
---
SCANDINAVIA VACATION

Hi, Donna,
Thank you for the welcome home message.  We had a great trip, including perfect weather the entire time. The pre-night stay in Stockholm was perfectly pleasant and comfortable. The hotel was very nice and well located, and we were able to walk to the old town and go on a tour through the Royal Apartments, and also rest up a bit before the cruise.
I think we want to tackle New Zealand next year, and Tasmania, maybe Australia. The question is whether to go by cruise, or if it is better to have a planned itinerary on land for ourselves. Your advice is welcome.
Many thanks,
Chris & Ken
---
DANUBE CHRISTMAS MARKET CRUISE

Donna:
Our trip was fantastic ~ Thank you for the perfect vacation!  There were so many great adventures, I cannot even begin to tell you all that we saw and did except to say, our cruise line, the exceptional service, excursions, events, the little villages, Budapest, Vienna, Salzburg, Christmas markets, lovely snowfall on the trees and grounds, and Christmas decorations everywhere made our trip look like a Christmas postcard.  It is still mind boggling at the wonderful experiences we shared with our friends.
The Christmas Market cruise was wonderful, far beyond what we were expecting, we are ready to go again.  Janet will send you some more thoughts, but wanted you to know "you did it again, the best!".  We thought we might check and see if there is a similar Christmas cruise on the Rhine in a couple of years, it was such a special way to get ready for Christmas, just will need to take an empty bag next time or fedex our clothes back. Again, you knocked it out of the park!
We appreciate all of your hard work and attention to detail because we had no glitches or any problems whatsoever.  Again, the perfect vacation and thanks!
Best, J & D
---
ITALY – ROME & SORRENTO

Hi Donna,
A few comments about the trip. Sorrento was wonderful, loved the hotel – small room but wonderful view with small balcony, breakfast buffet was excellent, attractive, plentiful and varied, hotel staff was incredibly helpful, cheerful every day. Spa personnel extremely personable. Loved the shopping. Our guide, Mario (for 2 days) was very knowledgeable but most of the time gave us WAY TOO much information.
Olive oil/cheese tour in Sorrento was interesting and tasty! Capri was my favorite. I loved our guide Enrica because she told us touristy things and gave us opportunities to do some things on our own. The coastline tour of Positano, Amalfi, Ravello was gorgeous.
We loved Rome – hotel location worked well for us. Staff was friendly and helpful. Surprised to find that Wi-fi was not free. Guide Barbara was absolutely delightful. She was a great match for us. She did a good job of giving some history, trivia, and keeping us moving. Food tour was so much fun!!!! Gary & I opted out of the music concert – too tired after 4 hrs at Vatican.
Enjoyed wonderful food the whole time. We often got great recommendations from the locals. Now that I'm home, I wish I had bought more. Prices seemed to be so much cheaper than here. You made great recommendations for packing. I had just enough clothes– and had room for gifts.
F & G
---
EGYPT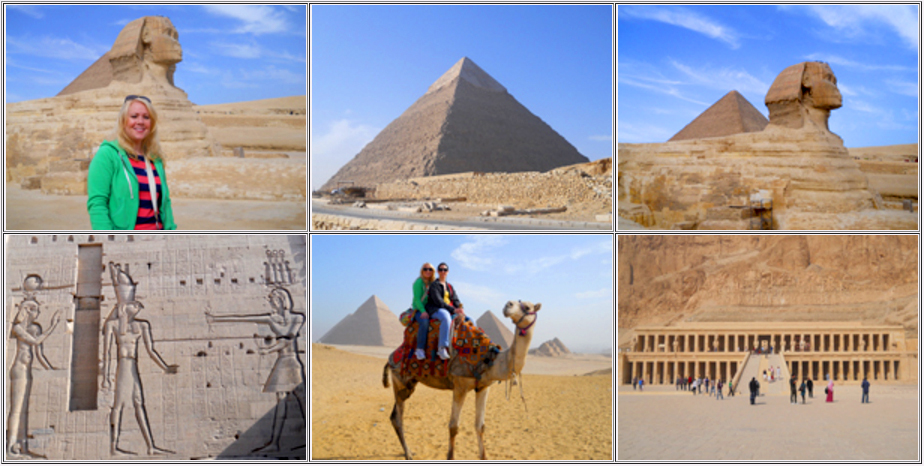 Donna,
I just wanted to thank you for a wonderful trip.  I know I speak for Amanda when I say we had an amazing time.  I still can't believe I saw the pyramids—and even that I went inside the Great Pyramid.  I was able to walk into the tombs of some of the kings.  These are things people dream of doing, and I actually did it!  And I was able to do it with your help.  I will say that working with you was wonderful.  I've booked trips before with other consultants, and once the money is collected, they haven't really been there to answer questions.  You answered questions right until we left.  The fact that you were still working with us as we were waiting for cancelled flights to get re-booked and hoping to get a ride from the airport to the hotel was appreciated.  The fact that you called us at the hotel to make sure we got in okay was also greatly appreciated.
I will definitely recommend you to anyone I know who is planning a trip.  In fact, when people asked how I planned this trip, I mention you and say you were great with the entire process. We have an intranet at work where people post things.  I put your information on there in case people are planning a trip and need some help.
We were pretty busy the entire trip.  We were getting up at 6 in the morning and were busy the entire day.  We appreciated a few ½ days on the cruise when we were able to relax.  The day trips were exhausting, but definitely worth it.  I saw more than I ever expected.  We did a lot of shopping.  Aside from the little statues we bought for co-workers, we ended up  really helping the economy—from oil to papyrus, scarves, bracelets, and necklaces.  We didn't really do too much during the evenings because we were so tired, but we went to the hotel bar one night and met people celebrating birthdays and an engagement.  We drank some Egyptian beer and did a shot (bought for us by the engaged couple) called a bloody brain.  It was good.  Our last night in Luxor, we went out with our tour guide and smoked some shisha. We were the only women out.  Apparently Egyptian women stay in and go to bed early since they get up early to go to work.
Thank you again for planning such a wonderful trip for us.  Amanda and I are already talking about our next trip ~ Italy!.  When we're ready, you will definitely hear from us.  Once again, thank you for everything.
Michelle
---
HAWAII ANNIVERSARY

Donna
Thank you for the happy anniversary wish. Everything went extremely well, hotels were fantastic, trip was incredible.
Thank you, again for your guidance in planning our special anniversary trip.  We enjoyed the beauty of Hawaii and our unforgettable stay.
Talk again soon.
D & J   …Hawaii Dreaming
---
ISTANBUL & CAPPADOCIA, TURKEY

Donna:
Istanbul and Cappadocia were wonderful!  We had such a great time- the whole trip was amazing.  We really liked the private touring you arranged, and the balloon company was super safe.  It was one of the most foreign places we had been to, and our eyes were opened about Islam and Turkish people.  The last night, we felt totally comfortable walking around the Blue Mosque crowd on our own during the Ramadan festival at the end of the fast that day.  The food is amazing there (trust me, we tried everything)!   It was a great idea to stay at the two different Four Seasons with the trip to Cappa in between- we saw totally different parts of the city that way!
Thanks for your help in organizing our anniversary trip!
AJ
---
LOVING JAMAICA

Hi, Donna, sorry I didn't get back to you  sooner.  We hit the ground running with a bunch of kids' activities right when we got back.  We had a wonderful time in Jamaica.  Round Hill is exceptional.
We had a lovely villa with private pool high up on the hill overlooking the sea, complete with breakfast cook and gardener.  Fresh mango, papaya and pineapple for breakfast in the open air of the villa living room was fantastic.  Lunch beach-side and evening themed dinners were great, too.  Never felt the need to go off property.
In non-peak season, Round Hill was not at all crowded and we enjoyed their delightful private beach.  The staff was super friendly and attentive.  We would go back and maybe even bring the kids as the place is very family friendly and easy to get to.
Thank you so much for setting it all up for us and helping with the last minute adjustment to our departure flight.  We had a great time.
CG
---
AMALFI, SORRENTO & FLORENCE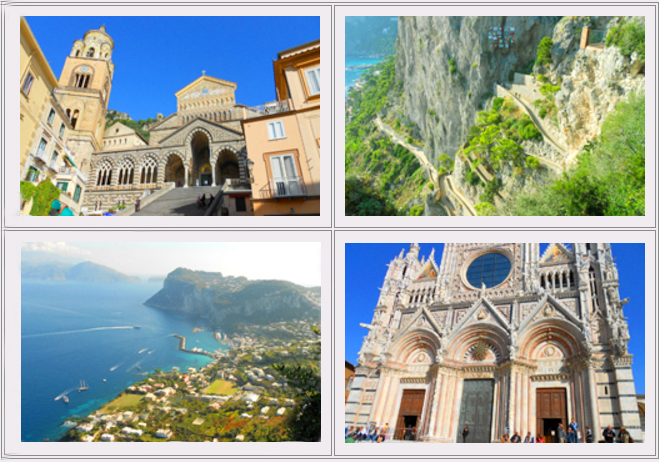 Oh, heavenly days, Donna, our trip was totally MAGICAL, thanks to you and your planning!
We truly savored every moment, free of any need to make plans (other than where and what to eat!) The hotels were lovely and we were able to get upgrades at both of them.
I must first highly complement the tour guides in Sorrento, for they were top-notch outstanding and truly made our trip to Capri and Ana Capri, and then to the Amalfi Coast, worthwhile. Francesco, the guide to Capri and Ana Capri, encouraged us to do the Blue Grotto AND the chairlift to the top of Ana Capri, which we still can't believe we did! We'll not want to travel to such cities again without having an expert guide.
Our trip to the Amalfi Coast was probably the highlight. We also enjoyed our guided tour of Pompeii.
Florence was totally divine, as well. The day trip to San Gimignano and Siena was nice.  Most important to us, though, was that we had the most fabulous meals of our lives each day while relaxing and taking in the beautiful areas around us. We could have stayed longer, and are certainly eager to plan another trip with you.
Thanks for ALL!    Fondly, C & B
---
ITALY – ROME & TUSCANY TOUR

We had a fabulous trip. It was a dream vacation. Loved the hotels…the locations and rooms were perfect. There was a nice balance between planned trips with guides and time to explore on our own. And we explored every day and had fun getting lost and finding our way to a restaurant or back to our hotel! Traveling with just carry – on is the way to go. On one of our day excursions, our guide Mauritizo took us to a tiny town in Tuscany (Volpaia) which has a total of 52 people in the entire village. We met Paola Barucci the owner of  Bar-Ucci, The Caffe in Volpaia.We were captivated by her warmth, charm and zest for life. The time we spent there was one of the highlights of our trip.
Can't wait to visit again and look forward to planning another vacation in the future with you.
Thanks for all your help and suggestions. Flying home from Pisa was a good choice.
Ciao,
Carole
---
EUROPE WATERWAY CRUISE

Hello Donna!
We had a wonderful trip with each and every port/town we visited being unique and picturesque!!  Weather was perfect and the folks that we met on the ship were a hoot!  Thank goodness we walked and walked and walked cuz we ate and ate and ate!  Food was excellent.  Amazingly enough, we didn't gain a pound…a true miracle, if you ask me! Thank you once again for dotting "i's" and crossing "t's" on all aspects of our European river cruise!  Back to reality…which ain't so bad!    KT
---
AFRICA SAFARI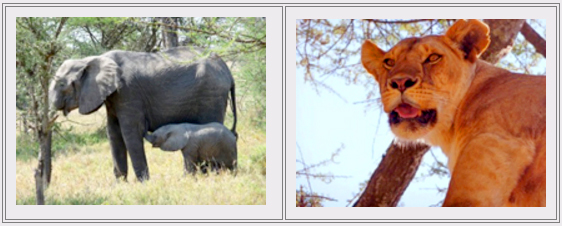 Hi Donna,
We had a grand time on our safari.  All went very well and we saw an amazing amount and types of animals, including the famous crossing of the Mara River.
Thanks for all you help in making the arrangements.   Enjoy the rest of summer
EL
---
ITALY – AMALFI COAST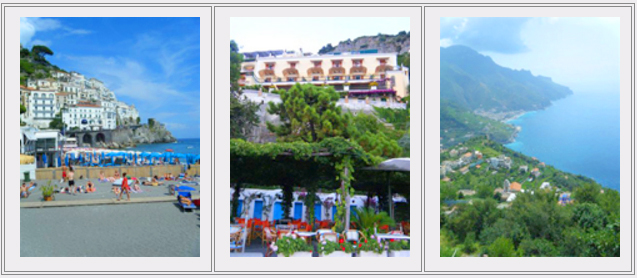 Hi Donna.  I just wanted to let you know that we are home safely from our trip to Italy.  We had an absolutely amazing time, one of our favorite vacations to date!!  Every detail was perfect, thank you so much!
We will definitely be planning another international trip in the future and will contact you when we do!
JB
---
ALASKA CRUISE

LOVED THE REGENT NAVIGATOR SHIP and all the amenities! Ate way too much wonderful food. Saw lots of eagles, whales, sea lions. No bears or moose. Most favorite excursion was the helicopter to Mendenhall Glacier with the dog sledding. Went Halibut fishing but didn't catch a Halibut. I caught a Turbot…not an edible fish. One fellow in our boat did catch 2 good sized Halibut and we went to the beach camp and the guide filleted the fish and we ate them in a yummy stew right then and there! Another great excursion! Would rate the whole trip a 9 out of 10! Excellent service, fun things to do on board and a great mix of good folks to chat and play with!
Thanks once again for this suggestion, Donna!
Kimberly & Dan / Regent Alaska Cruise Experience
---
ITALY & SWITZERLAND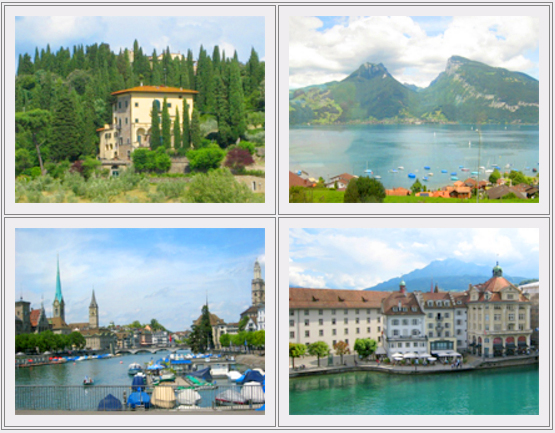 Donna
Everything was great. Driving in Florence was a bit crazy, but we were very happy to have a van, which accommodated everyone. Robin and Bobby just got in from Switzerland. They were very happy with everything. Thanks for all your help.
R & R
---
GREECE & TURKEY

Yes, we're back and have made it through jet lag. We had a grand time in Istanbul and Athens. Brad enjoyed the trip and had lots of good memories. The hotel accommodations were perfect – giving us enough privacy with Brad having his own space.
We highly recommend a fish restaurant in Istanbul called Balikci Sabahattin near the Four Seasons in Sultanahmet. Reminder for those that visit Turkey: Obtain the $20 Visa at the airport before they stand in the passport line.
We look forward to our African safari in July. We have received the interesting pre-trip information already. We will keep in touch.
E & A / Customized Greece and Turkey Experience
---
FRANCE & ITALY

Jardin des Tuileries    Sacre-Coeur Basilica     Notre Dame de Paris
Donna…. cataloging the right shots has taken far longer than we anticipated to Portofino and Paris. We had over 700 shots. Trip was awesome! Again, many thanks —
Joe & Angela / Loving France and Italy!