Top Ten Romantic Destinations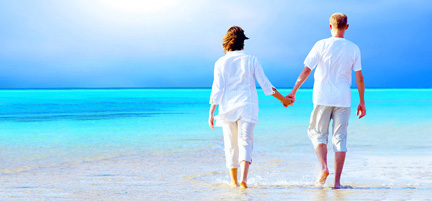 Long stemmed roses, dinner by candlelight, strolling hand in hand ~ you can experience romance just about anywhere. From Bora Bora to remote Ha Long Bay, we've handpicked travel experiences around the world that are sure to help you forge deeper connections with your loved one.

The diversity is amazing. The capital Buenos Aires offers a taste of Europe with incredible architecture, food and fashion. From the wine country in Mendoza to the alpine region of Bariloche to Ushuaia the gateway to Antarctica, there is a lifetime of adventure. <More Info>
The quintessential South Seas island, Bora Bora has been immortalized in film, books, and paintings. Its dramatic 700-meter peaks and shimmering lagoon will quickly put you under their spell—as will the luxurious resorts, superb scuba diving and dining, and nightly Tahitian dance performances. <More Info>
Known for warm, brilliant waters and picturesque towns, Athens and the islands of Greece offer a lifetime's worth of discovery. Friendly smiles and fresh seafood are abundant set amongst charming hotels and cafes.
Perhaps the most visited tropical destination in the world … and for good reason. Sandy beaches, palm trees, volcanoes, scuba diving, luxury resorts and villas.
<More Info>
This chain of coral islands off the southern coast of India is a year-round destination, with a tropical climate.
For those that want to relax, this is the ideal destination.
<More Info>
Seychelles is a year round destination, thanks to it's tropical Indian Ocean location just south of the equator. The luscious white beaches and crystal waters are peppered with massive, granite boulders; ancient remnants of once being conjoined with the African continent.
<More Info>

Once a Greek colony, a Roman province, an Arab emirate and a Norman kingdom; Sicily has been both a prize and a melting pot of cultures for 6,000 years. The heritage and history of this island is reflected in the spirit of it's towns and villages, each unique and full of character.
<More Info>

The Emerald Isle is home to verdant tropical rain forests, a waterfall that changes colors, and a drive-in volcano. In addition to these natural attractions, the island beckons visitors to beaches, reefs, markets, and the annual St. Lucia Jazz Festival. <More Info>
Comprised of some 40 small islands, attracting divers, snorkelers, swimmers, and sports fishing enthusiasts. The 200-mile-long coral reef – the world's third largest—draws visitors to the magnificent underwater world. <More Info>
This collection of exotic islands has been the home of the world's elite, pirates and intrepid travelers for centuries. With year round tropical weather, it is an endless vacation. Luxury villas and resorts provide the perfect haven for your stay.
<More Info>