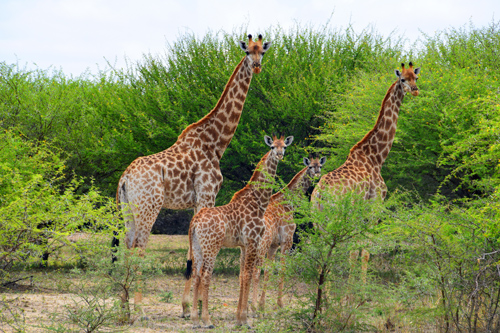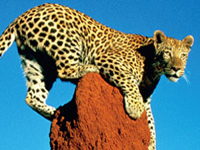 Enjoy game drives in Samburu Game Reserve and from your lodge. Fly across the Great Rift Valley to the Masai Mara Game Reserve, part of the Greater Serengeti ecosystem, where wildlife abounds.
Between game viewing activities, learn about the Masai people, the nomadic herders who have lived in harmony with their environment for centuries.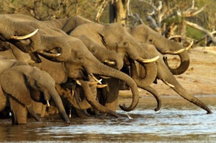 Return to the days of Hemingway, Blixen and Roosevelt when you explore the game reserves. Spend your days viewing game in 4×4 vehicles or on horseback.
See the "Big Five" safari animals, as well as giraffe, wildebeest and others.
See our article on Africa Experiences

See additional information including tours, videos, hotels and much more
Kenya Top Ten

Kenya & Tanzania Safari Tour

13 Day Tour of East Africa's renowned game reserves and national parks for an unforgettable Tanzania and Kenya safari! Observe huge herds roaming the Serengeti, the bird life of Lake Manyara, the "lost world" of Ngorongoro Crater, and rare species in Samburu National Reserve. Encounter Africa's Big Five in their natural environment,ride a hot air balloon over the Masai Mara at dawn.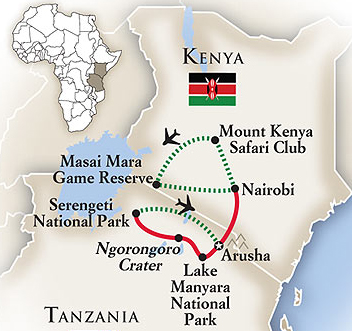 Day 1 – Arusha – Tanzania's safari gateway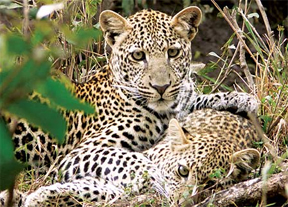 Tanzania and Kenya safari begins at Serena Mountain Village, Arusha.   Your Tanzania and Kenya safari begins at Serena Mountain Village in Arusha, the safari gateway city. A transfer is included from Kilimanjaro International Airport to your hotel, Serena Mountain Village at the foot of Mount Meru, the second-highest mountain in Tanzania.
Lodging: Serena Mountain Village, Arusha, Tanzania

Day 2 – Flamingos at Lake Manyara National Park
The vast Serengeti beckons as you embark on a four-night safari in Tanzania, and a five-night Kenya safari. Take your first game drive* through Lake Manyara National Park, renowned among birders for huge flocks of pink flamingos, as well as giraffes, baboons, hippos, and elephants. Arrive in the Ngorongoro Conservation Area, populated by an estimated 30,000 large mammals. Your lodge for the next two nights is on the Ngorongoro Crater rim overlooking the caldera below, an excellent spot for our welcome reception and dinner.
Meals: Breakfast, lunch, dinner
Lodging: Ngorongoro Serena Safari Lodge, Ngorongoro Crater, Tanzania
Day 3 – Wildlife in the "Garden of Eden" – Ngorongoro
Thought by some to be Africa's original Garden of Eden, Ngorongoro Crater is one of the largest calderas in the world and contains a variety of ecosystems and an astounding concentration of birds and animals. Your four-wheel-drive vehicle provides an excellent mobile viewing platform when encountering massive herds of zebras, wildebeests, and gazelles. This area affords an opportunity to spot the Big Five – elephant, leopard, lion, buffalo, and rhinoceros. Enjoy a picnic in the crater today.
Meals: Breakfast, lunch, dinner
Lodging: Ngorongoro Serena Safari Lodge, Ngorongoro Crater, Tanzania
Day 4 – Early human history at Olduvai Gorge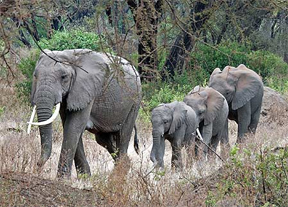 Study the development of humankind at Olduvai Gorge, where, 50+ years ago, archaeologists Louis and Mary Leakey discovered the fossilized remains of some of the earliest known human species, an estimated 1.8 million years old. Continue wildlife viewing while driving the rough dirt roads across the plains to your safari lodge in the Serengeti, whose stone-built accommodations were inspired by Maasai tribal dwellings.
Meals: Breakfast, lunch, dinner
Lodging: Serengeti Serena Safari Lodge, Serengeti National Park, Tanzania
Day 5 – The Serengeti summons
Look for wildlife in the heart of the vast savanna of the Seren geti today on both morning and afternoon game drives. Sightings might include lions, zebras, hyenas, leopards, cheetahs, elephants, black rhinoceros, hippos, buffaloes, jackals, gazelles, and giraffes. When the sunset paints the sky in the evening, enjoy the show from the luxury of your lodge in Serengeti National Park.
Meals:  Breakfast, lunch, dinner
Lodging:  Serengeti Serena Safari Lodge, Serengeti National Park, Tanzania
Day 6 – Kenya safari begins
Leave the Serengeti behind as you fly to Arusha, where you'll tour a private coffee plantation with a local guide and a cultural center. Later, hop a short flight from Arusha to Kenya's capital, Nairobi. Tour the Karen Blixen Museum at the former coffee plantation and home of the Danish author (a.k.a. Isak Dinesen) whose story inspired the movie Out of Africa; and meet some new long-necked friends on a guided visit to the Nairobi Giraffe Center featuring a tour and a private lecture. Overnight at Nairobi Serena Hotel.
Meals: Breakfast, lunch, dinner
Lodging: Nairobi Serena Hotel, Nairobi, Kenya
Day 7 – Visit an animal orphanage and stay at a former celebrity playground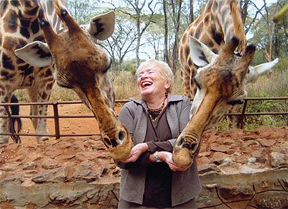 Depart Nairobi and continue on to the world-famous Fairmont Mount Kenya Safari Club, your luxurious home for the next two nights. The former retreat of actor William Holden, the Safari Club was once the playground of such illustrious members such as Winston Churchill and Bing Crosby. Following lunch and an equatorial demonstration, you can spend the afternoon at William Holden's Mount Kenya Animal Orphanage on the grounds of the club; this sanctuary for animals that have been orphaned or injured and need special care also teaches local children to cherish and appreciate the unique wildlife of their homeland.
Meals: Breakfast, lunch, dinner
Lodging: Fairmont Mount Kenya Safari Club, Nanyuki, Kenyad
Day 8 – Village life and leisure at the Safari Club
On a morning visit to a local village, discover how residents of the region tend sheep and spin, dye and weave their wool into colorful rugs and garments such as sweaters and shawls. Return to your exceptional resort, set high on the side of a mountain, to swim, relax or indulge in all sorts of pleasant diversions, including golf and fishing, that are available at additional cost.
Meals:  Breakfast, lunch, dinner
Lodging:  Fairmont Mount Kenya Safari Club, Nanyuki, Kenya
Day 9 – Sweetwaters Chimpanzee Sanctuary
Visit the private Ol Pejeta Conservancy, dedicated to preserving natural habitats for the conservation of endangered species. In addition to the rescued chimpanzees that have found sanctuary here, this protected reserve boasts the largest resident black rhino population in East Africa.
Meals: Breakfast, lunch, dinner
Lodging: Fairmont Mount Kenya Safari Club, Nanyuki, Kenya
Day 10 – Masai Mara National Reserve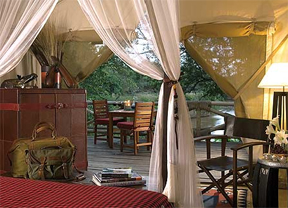 A flight takes you to the legendary Masai Mara National Reserve in southern Kenya, where a Maasai warrior welcomes you. Your luxurious tented camp is surrounded on three sides by a river; go on a late afternoon game drive.
Meals: Breakfast, lunch, dinner
Lodging: Fairmont Mara Safari Club, Masai Mara Game Reserve, Kenya
Day 11 – Game Drives, Masai Mara
The Masai Mara National Reserve is one of the most popular reserves for viewing the Big Five. Open, rolling grasslands provide a remarkable backdrop – light takes on unusual hues, colors are accentuated, and you may be lucky to spot the black-maned lion on one of today's Kenya safari game drives.
Meals:  Breakfast, lunch, dinner
Lodging:  Fairmont Mara Safari Club, Masai Mara Game Reserve, Kenya
Day 12 – Up, up and away over Masai Mara
Today will be one that you'll always remember as you arise before dawn to board a hot air balloon and float over the awakening plains below as the sun rises. When you land, a special champagne breakfast will be awaiting you right there in the bush! Spectacular isn't quite strong enough a word to describe such an experience! Back on the ground, look for lions, impalas, cheetahs and giraffes – and the other animals you've come to love – during your final game drive, then join us for a perfect ending to your unforgettable safari… a farewell dinner at your tented camp.
Meals: Breakfast, lunch, dinner
Lodging: Fairmont Mara Safari Club, Masai Mara Game Reserve, Kenya
Day 13 – Homeward bound as your Kenya safari concludes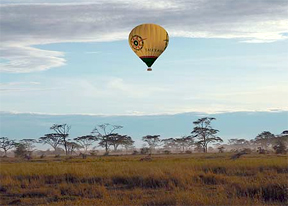 Fly to Nairobi, where a day room has been reserved for you at the Nairobi Serena Hotel. Enjoy dinner at the hotel before heading to the airport for your flight home this evening. We wish you a safe and pleasant journey home. Your Tanzania / Kenya safari ends at Jomo Kenyatta International Airport.
Meals: Breakfast, lunch, dinner