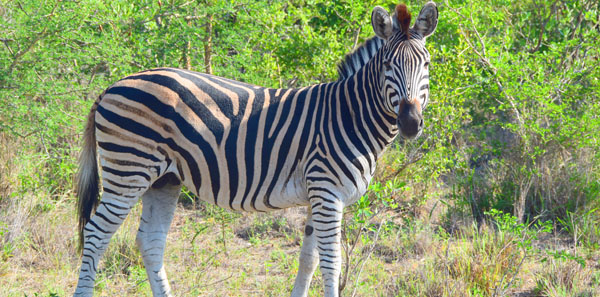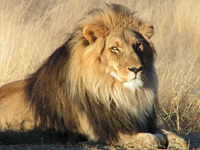 An African safari is always a trans-formative experience, and none more so than this inspiring journey that combines the wonders of Africa's wildlife with visits to projects that directly improve the lives of its people.

Experience game drives in places worthy of the name "paradise," from vast grasslands, winding rivers and acacia groves to a giant caldera filled with wildlife.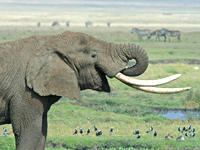 Tanzania is classic Africa – Kilimanjaro, the Great Rift Valley, Masai homelands and the celebrated game-filled plains of the Serengeti.
Discover that the country's wildlife parks and reserves are unrivaled for their abundance of game. Witness the migration of zebra and wildebeest cross vast Serengeti plains.
See our article on Africa Experiences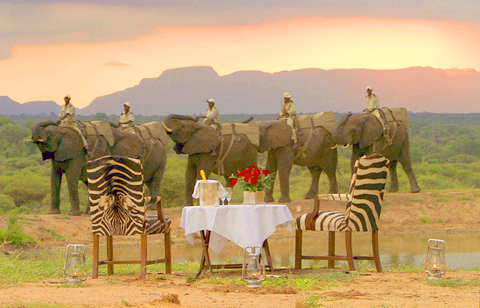 Tanzania Top Ten


Tanzania Adventure Tour
Ngorongoro, Serengeti, Kilimanjaro…. just a few of the alluring names evoked at the mention of Tanzania—and all visited in unrivalled luxury on this exhilarating safari. With stays at the stylish new safari lodges—astounding properties that bring five-star élan in harmony with nature—we explore the full grandeur of this justly iconic land. From singular Serengeti plains and the rugged terrain of Tarangire to the Edenic expanses of the Ngorongoro Crater, this extraordinary journey puts a thrilling new spin on the classic Tanzania safari.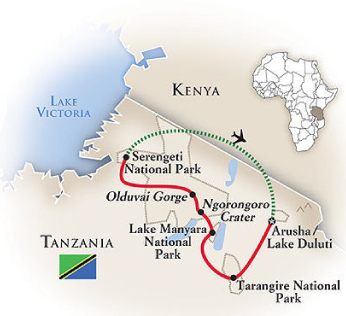 Day 1: Flight to Arusha
 Your safari begins today after the flight from Europe.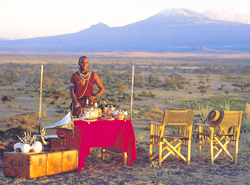 Day 2: Arusha
Welcome to Arusha, Tanzania—gateway to the treasures of Tanzania. Your friendly Safari Director accompanies you to the five-star Arusha Coffee Lodge—an idyllic escape tucked away in a verdant coffee plantation. Designed around the original plantation house, the lodge emanates the romance of bygone days. You stay in the plush Plantation Suites, and can take advantage of the many amenities on offer here: swimming in the pool, cozying up to the fireplace or simply enjoying a view of majestic Mt. Meru from your private balcony.


Day 3: Arusha – Tarangire National Park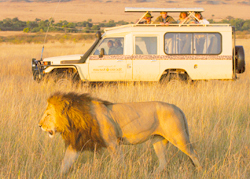 This morning you savor a leisurely breakfast with the freshest coffee imaginable before meeting the Safari Director for a briefing. Then, you explore the lush, technicolor-green grounds of the coffee plantation.
After an al fresco lunch, you take to the air over East Africa's golden landscape to Tarangire, a reserve of dramatic landscapes and excellent game-viewing. And your home here is exalted… quite literally, in fact. You retire to supreme luxury at Tarangire Treetops—including private balcony with views to Lake Manyara and the Rift Valley wall—atop an age-old Baobab or Marula tree. Your own deluxe tree-house overlooking the savanna: it's a thoroughly African experience.

Day 4: Tarangire
At the first break of day, you take to an Africa that is slowly awakening. The ecosystem varies between dry and dusty, and green and swampy, and each different landscape has its own cast of creatures. On top of the game drive, a full slate of activities is available from tracking game on foot to visiting the local Masai people. And for those who did not have their fill of animals during the day, a night game drive draws out Tarangire's nocturnal creatures as you ply the rugged landscape under a blanket of stars. Return for a nightcap at the split-level lounge, a relaxed setting with uninterrupted view of the landscape.

Day 5: Tarangire – Ngorongoro Crater

The sun rises over Tarangire, up for an early breakfast and a last glimpse of the park's voluminous game. After a gourmet lunch, fly to Lake Manyara and begin the scenic ascent through a wildlife wonderland: Ngorongoro Conservancy. Unofficially the "eighth wonder of the natural world," this ancient amphitheater forms a unique haven for wildlife with over 20,000 animals thriving in its near perfect conditions. Stay at the serene and solitary Ngorongoro Sopa Lodge, perfectly perched on the eastern rim of the crater. Enjoy dinner and eventually your delightful room with striking views of the crater below.

Day 6: Ngorongoro Crater
Today descend 2,000 feet into this ancient collapsed volcano, passing lush rain-forest and thick vegetation, and then you see it: the largest concentration of animals in Africa. A variety of environments—grassland, swamps, forests and lakes—yield a staggering variety of animals: lions, zebras, buffaloes, rhinos, elephants, gazelles and wildebeests just to name a few. And because the grasses are short, it is infinitely easy to spot the remarkable creatures here…each turn of the head brings an exciting new vista. Return to the Ngorongoro Sopa in time for evening cocktails and to recall the dizzying array of wildlife you saw that day.

Day 7: Ngorongoro Crater – Serengeti National Park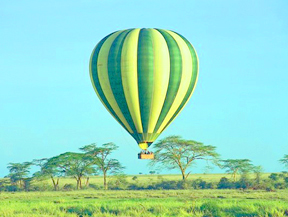 After a delicious breakfast, depart for Lake Manyara and your onward flight to the legendary Serengeti. This is archetypal Africa: the wide-open spaces, bright blue skies and magnificent wildlife of our imagination. The Serengeti's terrain is quite varied: savanna dotted with acacia trees, magnificent rock outcroppings called kopjes, and dense bush as well as streams and rivers. Your base here is Migration Camp, alluringly set on a kopje overlooking the rolling Serengeti hills. Spacious tents are superbly secluded and blend into their natural environment above the Grumeti River. Richly furnished throughout, the camp exudes a decadence reminiscent of the Africa of yore.

Day 8: Serengeti National Park
In the famed Serengeti, discover a land brimming with wildlife. Lion, leopard, cheetah, elephants. Wildebeest grazing, giraffes loping across the plains, monkeys playing in the trees. Opt for a game drive, or choose to explore the area on a guided game walk. Or perhaps you wish to lounge beside the swimming pool back at camp—the perfect spot from which to observe the abiding drama of the bush.

Day 9 – Day 10 Serengeti National Park – Departure Home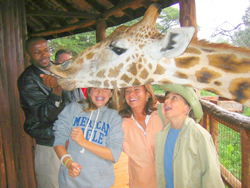 Awake to piping hot coffee. You may wish to take one last game drive, or to explore the area on foot before returning to the camp for breakfast. Finally, bid adieu to the Serengeti as you wing your way back to Arusha. A day-room is available at the Arusha Coffee Lodge, where you can rest before beginning the journey back home that night, arriving home on Day 10.