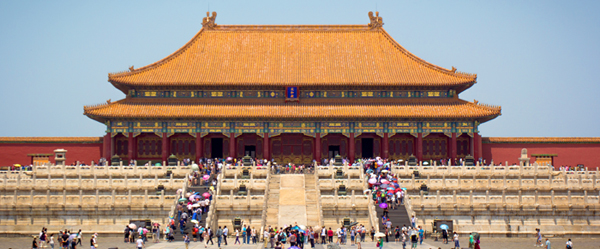 China is a country of many people and cultures.
A country so vast that most of it's own citizens will never see all it has to offer.
A land of ancient treasures and compelling UNESCO World Heritage Sites.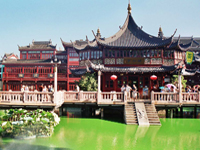 Explore Shanghai, a diversity of old and new. At the Shanghai History Museum, see ancient bronze bells, prehistoric jade knives and ethnic costumes and ornaments from different parts of China.
Wander the Yu Garden, adorned with pavilions, streams and pools. Don't miss the huge Dragon Wall; the red fish swimming in the Lotus Pool; and the Bridge of Nine Turns.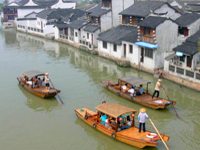 Travel to Zhujiajiao, a picturesque "water village" with stone bridges and buildings from the Ming and Qing Dynasties. Learn how to prepare your favorite Chinese dishes at a local cooking school.
In the evning, see the dazzling balancing acts and pretzel-like acrobatics at the famous Shanghai Acrobatic show.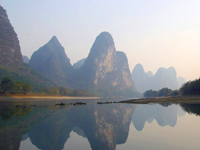 Cruise the Li River past scenery that has inspired painters and poets throughout the centuries. Disembark in Yangshuo and bicycle along cobbled lanes and bustling markets, as well as through emerald green rice paddies where farmers plow by hand.
Then the evening explodes with color, sound and light during a performance of Impressions of Yangshuo.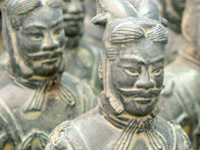 Fly to Xian and see where Chinese peasants digging a well in 1974 discovered an incredible ancient burial site. It was the Terra Cotta Warriors and Horses, the thousands of life-size ceramic soldiers and horses "guarding" the tomb of China's first emperor.
Then climb the Ancient Gate of the City Walls, one of the few existing city walls left in China.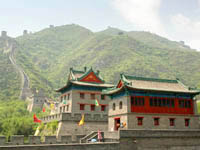 Take a river cruise for the experience of a lifetime, traveling through the scenic Three Gorges.
Spend two adventurous days on the ship, exploring the shore and pass through the world's largest dam project.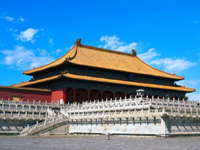 Walk in the footsteps of emperors in the Forbidden City and wander through Tiananmen Square. Tour sites from the 2008 Summer Olympics, including the Beijing National Stadium, also known as the "Bird's Nest."
Visit the Mutianyu section of the Great Wall. Explore the Temple of Heaven and climb into a pedicab to thread your way through the winding lanes of a hutong neighborhood.


---
China Grand Tour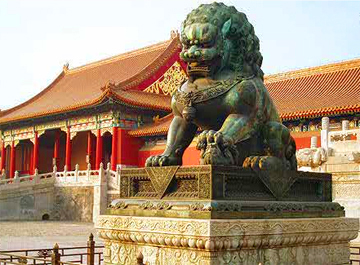 Picture a China travel adventure that takes you behind the scenes at ancient treasures, exotic gardens, architectural masterpieces and compelling UNESCO World Heritage Sites like the Forbidden City, the Great Wall and the Terra Cotta Warriors… includes a memorable cruise through the Yangtze River's Three Gorges aboard the Yangzi Explorer…  and is filled with exclusive experiences ranging from an insider experience in Beijing's hutongs including a visit with a local family, to an introduction to Shanghai from a VIP viewing platform!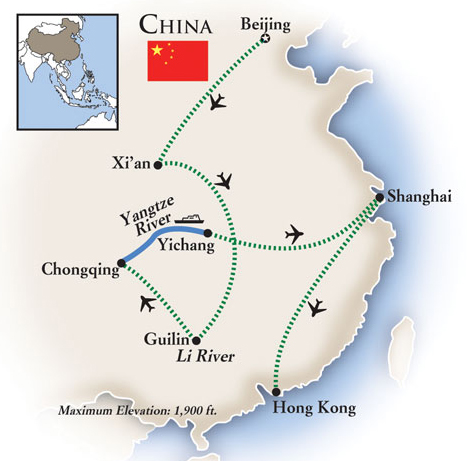 Experience China travel by rickshaw in Beijing, by sampan in Shennong Stream, via funicular up Victoria Peak in Hong Kong, by gondola and on foot along the Great Wall, and aboard the world's fastest maglev train in Shanghai. Meet a Tang Dynasty expert in Shaanxi, a conservation expert at the Terra Cotta Warriors museum in Xi'an, and families at a Three Gorges Dam relocation village along the Yangtze. There's no end to the enriching discoveries you'll make on this comprehensive China travel experience!

Day 1 – Welcome to Beijing
A transfer is included upon your arrival from Beijing Capital International Airport to The Regent Beijing in the heart of the city, where a taste of local specialties awaits at tonight's welcome reception followed by dinner.


Day 2 – Past meets present meets future in Beijing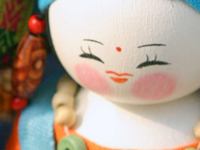 Explore the delicate balance between Beijing's past, present and future at some of the capital's must-see sites. Visit Tiananmen Square, a witness to much of modern Chinese history and home to Mao's mausoleum; view his portrait hanging above the "Gate of Heavenly Peace." Beyond it, in the legendary Forbidden City, where Imperial China's emperors dwelt for centuries, tour the Hall of Supreme Harmony, the Imperial Garden and more. After lunch, a local expert shares insights on the city's centuries-old hutongs – unique traditional neighborhoods threatened by ongoing urban development – and leads you on a private tour of the Houhai hutong, where you'll ride a rickshaw and visit a local family in their home.


Day 3 – From the Great Wall to the Summer Palace
Besides being the only man-made structure visible from space, the Great Wall of China tops most travelers' lists of the Earth's must-visit places. And today, you'll not only visit it, but experience it in more ways than one – riding a gondola up to the highest point of its Badaling section, walking down to the bottom along an ancient stone path, and having lunch with views of this architectural wonder spread out all around you at the Commune by the Great Wall. Check out the pavilions, halls, bridges and gardens of the Summer Palace, a UNESCO World Heritage Site, and cruise on Kunming Lake. Tonight, have dinner at your choice of four restaurants in your Beijing hotel.


Day 4 – Around old Imperial Beijing and Olympic Park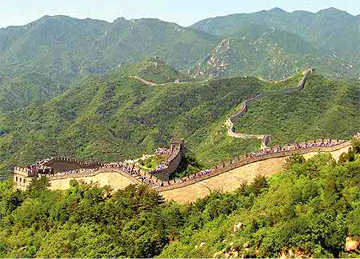 Visit a grand example of traditional Chinese architecture – Beijing's Temple of Heaven, a round, three-tiered wood structure intricately decorated with gold leaf and colorful designs; try to imagine a long-ago time when the emperor and his entourage would travel here in secret processions from the Forbidden City to hold solemn ceremonies asking the gods for a bountiful harvest. Learn the moves from the locals as you take part in a Tai Chi racquet lesson in one of the Temple's beautiful parks. Then recapture the welcoming spirit of the 2008 Beijing Olympics on visits to one of its most iconic venues – the "Bird's Nest" (Beijing National Stadium), where the track and field events and opening and closing ceremonies were held – before spending the rest of your day and evening exploring on your own.


Day 5 – On to Xi'an… and a look at ox culture
Today's China travel begins with a morning flight to the ancient city of Xi'an; set at the eastern end of the Silk Road, it's one of the country's oldest cities and served as the capital during the Han, Qin, Tang and other early dynasties. After lunch on your own and a visit to the 1600-year-old Big Wild Goose Pagoda, learn about the ox's special place in Chinese culture on a tour of the new Ox Culture and Ceramics Museum in Xi'an – and share a glass of wine with the curator as he shares his passion for collecting ancient art and pottery.


Day 6 – The Terra Cotta Warriors and more Shaanxi history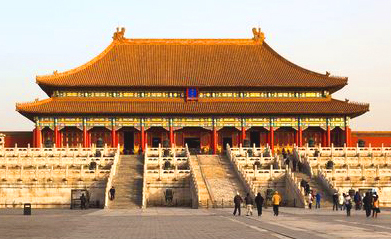 Get the inside story of Xi'an's amazing Terra Cotta Warriors – 8,000 individualized, life-size terra cotta statues of soldiers who stood guard at the underground tomb of Qin Shi Huangdi, China's first emperor, for more than 2,000 years. They were discovered by farmers digging a well in 1974, and are now a designated UNESCO World Heritage Site! View the incredible statues, tour the site's museum, and get the scoop on future plans for their preservation during a talk with one of the museum's leading staff members. Continue on to the Shaanxi History Museum, whose splendid collection of more than 350,000 artifacts illustrates the story of ancient China's feudal dynasties, many of which had their capitals here in Xi'an; your special visit includes insights from a Tang Dynasty expert.


Day 7 – On to Guilin and a Li River cruise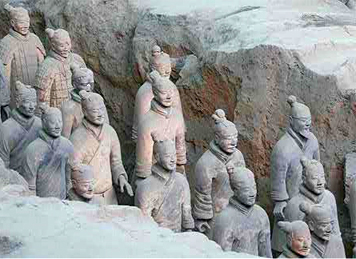 Fly to Guilin, among China's most picturesque places, whose landscapes have inspired poets and artists for centuries. Feast your eyes and your soul on tranquil groves, fishermen on bamboo rafts, breathtaking limestone peaks and views of traditional village life on a private cruise along the storied Li River that seems lifted from an ancient Chinese scroll painting! Dinner is à la carte this evening at your hotel, the Shangri-La Hotel, Guilin.


Day 8 – Fly to Chongqing for your Yangtze River cruise
Following a morning flight to Chongqing and a visit to the Chongqing Zoo, board the Yangzi Explorer today to continue your China travel with a memorable three-night cruise through the Three Gorges of the mighty Yangtze River. Dine à la carte aboard ship this evening before setting sail on your cruise, bound downstream (eastbound) to Yichang.


Day 9 – Onboard fun and a visit to a relocation village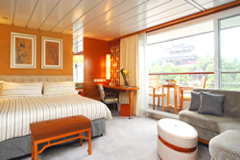 Visions of knobby, mist-shrouded mountains steeped in the mystique of old China travel with you as you experience the Yangtze from dawn to dusk aboard the recently renovated Yangzi Explorer, one of the finest and roomiest ships on the river. Start your day with Tai Chi exercises, and attend on-board demonstrations on proper Chinese tea preparation and dumpling-making as you cruise. Shore excursions after lunch aboard the riverboat include stops at Fengdu, China's ancient "Ghost City," or (depending on river conditions) Wanzhou, and a visit to a "relocation village," where you'll meet local families whose traditional homes and land were affected by the Three Gorges Dam project. Celebrate with Yangzi Explorer's Captain and crew at the Captain's welcome reception and dinner this evening.


Day 10 – Pavilions and pagodas along the Yangtze
While cruising the Yangtze, view centuries-old pagodas and temples built against steep-sided cliffs, ancient roads and terraced fields along the river's edge. Today you'll navigate through Qutang and Wu Gorges, explore Shennong Stream on a private shore excursion via sampan, and enjoy shipboard activities including a calligraphy lesson and an entertaining crew show as Yangzi Explorer cruises through Xiling Gorge, largest of the Three Gorges, this evening.


Day 11 – The Three Gorges Dam and on to Shanghai

Sail into Yichang through a series of locks adjacent to the site of the recently completed Three Gorges Dam, one of the world's largest construction projects. Following your private visit to the site and lunch aboard the ship, disembark and fly to Shanghai, one of the country's most cosmopolitan cities. You'll spend three nights at the Waldorf Astoria Shanghai on the Bund, a new landmark hotel on Shanghai's premier waterfront promenade boulevard, the Bund.


Day 12 – Shanghai sights and the world's fastest maglev train
Today you'll explore Shanghai's famous waterfront Bund and take a ride on the world's fastest maglev passenger train, which can reach a top speed of 268 mph! Walk through the Bund's sightseeing tunnel before visiting historic and harmonious Yu Gardens, whose original grounds and temple date back to the 1550s; the word yu translates to "peace and health." Have lunch today at "M on the Bund"; enjoy dinner on your own this evening, and watch from VIP seating as the daring acrobatic performers of Shanghai's acclaimed ERA show entertain you tonight.


Day 13 – A VIP view of the city and the Shanghai Museum
Experience a very special private introduction to Shanghai from the VIP viewing platform of the Shanghai Urban Planning Center overlooking the city. Explore the center's exhibits on this historic port city's past, present and future, including a mock-up of 1930s Shanghai; a huge model of what the city might look like in 2020; a 360-degree, 3-D film and more. Then walk across People's Square to tour the Shanghai Museum, displaying 120,000 works of art and artifacts. After lunch on your own in the Xiantiandi neighborhood, you'll have time to explore the area and its vanishing traditional stone-gated shikumen homes.


Day 14 – On to remarkable Hong Kong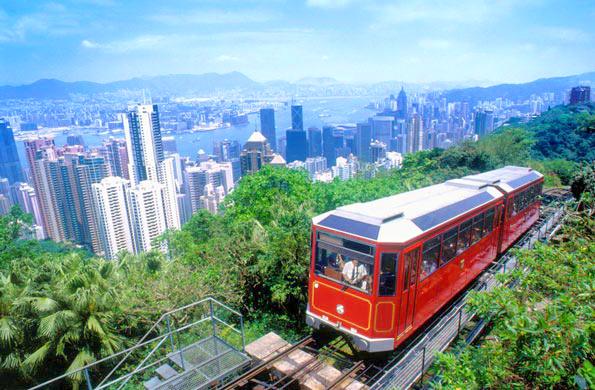 A morning flight takes you to continue your China travel in legendary Hong Kong, arriving in time for lunch at a local dim sum restaurant. Take a crash course in Hong Kong's cultural, archaeological, and natural history with a visit to the renowned Hong Kong Museum of History, and spend the rest of the day and evening exploring the city as you please from your ideally located hotel in Kowloon.


Day 15 – Hong Kong from many perspectives
You'll experience this fascinating city from different perspectives today – by ferry, by double-decker bus, and on a funicular tram ride up Victoria Peak. Have lunch on your own and spend the rest of the day exploring the city as you please. Hong Kong abounds with street stalls selling everything from sneakers to silk, tropical birds to exotic fish; your hotel is in the Kowloon section, right in the heart of this shopper's paradise. We invite you to join us and celebrate an incredible China travel experience at our farewell reception and dinner tonight.


Day 16 – Bound for home
Your adventure ends in Hong Kong, where you'll catch your return flight home. A transfer is included from the Kowloon Shangri-La Hotel to Hong Kong International Airport; you should allow 3 hours for flight check-in.
---
Cruise Aboard Yangzi Explorer

The 3-night Eastbound cruise aboard Yangzi Explorer takes you through the scenic heart of the Yangtze River, the Three Gorges, with included shore excursions (note that the 17-day Westbound itinerary features a 4-night cruise). The 5-star Yangzi Explorer carries no more than 124 guests with a crew of 130, and boasts the highest ship staff-to-guest ratio on the river. All cabins include a mini bar, bathrobes and slippers, phone, private safety box, TV, hair dryer, and private balcony.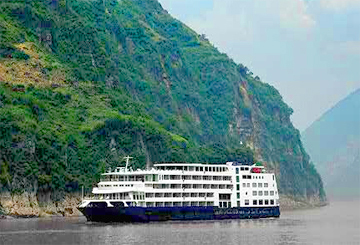 Offering all the amenities one would expect at a 5-star hotel, Yangzi Explorer features a fitness center; multi-language library; spa facilities; theater; lounge; and espresso bar. International buffets are offered for breakfast and lunch, while dinner tempts with a variety of international and Chinese specialties; wine and beer are included with meals aboard the ship.
The Yangzi Explorer cruise runs east from Chongqing and west from Yichang. 16-day Eastbound itinerary (detailed here) features a 3-night downstream cruise. (Westbound features a 4-night upstream cruise and slightly different itinerary.)