Once the discreet hideaway of Rothschilds and Rockefellers, Saint Barthélemy or St. Barths today is a favorite haunt of celebrities and other high-profile types from December through April. French in attitude and accent, the island offers 14 uncrowded, ultra-clean beaches. Also know as St. Barts.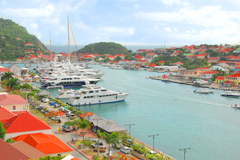 Gustavia

In Gustavia, the picturesque harborside capital, boutiques sell microscopic bikinis, imported cigars, diamonds, perfume, and other yacht-party essentials.
Choose from dozens of restaurants to savor the sunset with fine dinner fare and French wine.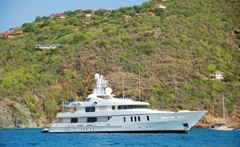 Luxury Yachts

Some of the most luxurious yachts in the world sail the waters of St Barts. Celebrities and captains of industry consider this island their favorite Caribbean destination.
Weekly charter yachts are available throughout the year.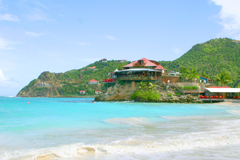 Bay St Jean

While vigorous vacationers swim, snorkel, scuba and go deep-sea fishing off St Jean and other beaches on this eight square mile island; beach side dining and shopping is the real attraction here.