Waterways & Vineyards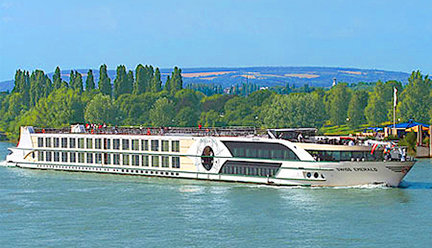 On one of the most enjoyable France river cruises you could imagine, journey from the jet-setting capital of Monte-Carlo into Provence to Arles for a cruise along the Rhône River to Lyon and then along the Saône.
Travel into the countryside past vineyards where some of the world's best grapes become some of the world's best wines, stopping to taste some of them. Discover river towns with Roman roots and lingering traces of medieval magic in their streets, experience the cowboy traditions and cuisine of La Camargue, and sample the pleasures of regional cuisine and wine throughout your trip. Explore a palace fit for a pope and an abbey that was once one of the most powerful in Europe. You'll find something new, something wonderful every day. And during two nights in Paris, you'll dine at chic Fouquet's on the Champs-Élysées!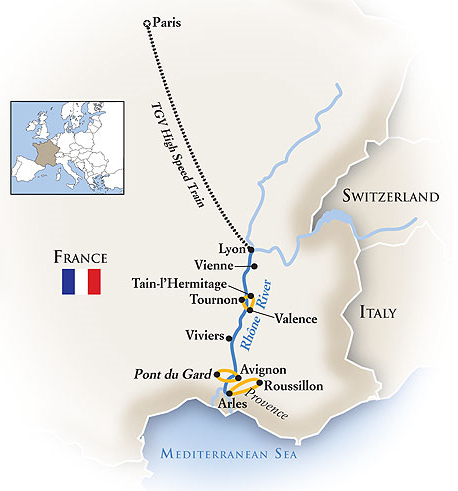 Day 1 – Nice and Monte Carlo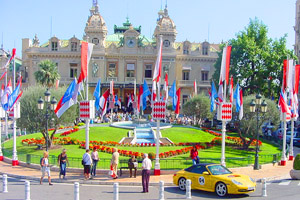 Transfer to the hotel, then join a cocktail reception and dinner.

Day 2 – A Day in Monte Carlo
It's hard to imagine a more idyllic or sophisticated place than Monte-Carlo; it brings to mind jet setters, mega-yachts, the glittering casino where the rich and famous play, and the fairy-tale legacy of Princess Grace, Prince Rainier and the Grimaldi family who have ruled the Principality of Monaco for over 700 years. It's all part of the magic you'll discover – along with Monaco's cathedral, the Place de Palais and more – on a morning orientation tour and time on your own.

Day 3 – A Day in Nice
You'll discover why Nice is a perennial favorite of sophisticated travelers. Go on a city walking tour this morning followed by time to explore as you please. You might choose to stroll the Promenade des Anglais, winding its way along the shore of the beautiful Bay of Angels, or the medieval streets of Old Town that make Nice so nice. Early afternoon, travel to Arles, where you'll board ms Swiss Emerald and begin one of the most popular France river cruises along the Rhône and the Saône. The captain welcomes you aboard with a reception and special dinner this evening..

Day 4 – Van Gogh's Arles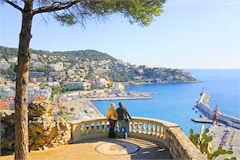 It may seem strange to encounter Roman ruins in Provence but Arles was, after all, once a Roman city; while the gladiators are gone, the arena they left behind – just one of the town's many Roman remnants – still hosts performances and bullfights today. Explore Arles' medieval streets and city walls and be sure to look out across the surrounding countryside to what van Gogh found so enchanting. It's off to La Camargue, France's "wild west," where cowboys tend to herds of bulls destined for bullfighting rings in Spain. Visit a working farm to see what these cowhands and their charges do during a demonstration – not something usually experienced on France river cruises – followed by lunch featuring traditional Provençal fare and entertainment.

Day 5 – Avignon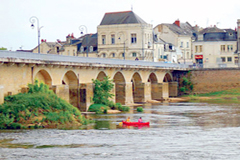 The fortified city of Avignon was probably a much more peaceful place before Rome became "inconvenient" for the popes who moved the papacy here about 700 years ago. Although they stayed for less than a century, they kept busy during those years… as you'll see at the impressive Palais des Papes that they built for themselves during this morning's sightseeing in this medieval city. As well versed in Latin as they all were, they surely understood what "in vino veritas" means, and they all shared a fondness for wine – and the "truth" it brings – which was very convenient, because wine has been grown in the area for over 2,600 years. Taste locally produced wine named for the "new castle of the popes," the world-renowned Châteauneuf-du-Pape, on a wine-tasting excursion in the afternoon.

Day 6 – Medieval Viviers
The walled city of Viviers, which retains much of its medieval character, is a delightful stop. A walking tour reveals ancient homes and its unusual cathedral, which looks more like a castle than a church in the opinion of some, high up on the riverbank. After some free time to soak up the character of this lovely town on your own, reboard for lunch, followed by an afternoon and evening cruising along the Rhône. Weather permitting, enjoy a demonstration of the popular French game of pétanque.

Day 7 – Vienne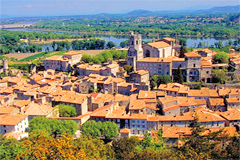 It seems that the Romans were everywhere along the Rhône, and Vienne (which they called "Vienna" in their day) was no exception. During your time on a walking tour here, look for the theatre and temple they left behind, as well as other sights straight out of history. You'll also travel to Mont Pipet for extensive views of the surrounding countryside. Some free time, then a return to aboard for an afternoon cruising the Rhône, charting a course for Chalon-sur-Saône on the Saône. Take advantage of all that your riverboat offers, or perhaps just settle into a deck chair on the Sun Deck and watch the world along the river, with its vineyards and bucolic villages, go by.

Day 8 – Chalon-sur-Sâone
Chalon-sur-Sâone lies in the heart of southern Burgundy. Although its history dates back to the time of Charlemagne, it has another significant claim to fame – this is considered the birthplace of photography. You have local inventor Nicéphore Niépce, who produced several photographic firsts right here in the 1820s, to thank for the great photos of the town's Romanesque churches and other monuments you'll take during a walking tour. Then get your taste buds ready for a workout, first to savor local culinary offerings on a guided tasting tour of some of Chalon-Sur-Saône's noted food shops. Drive this afternoon along the Route des Grand Crus in Mercurey, largest wine-producing area in the Côte Chalonnaise, stopping at two private vineyards on grand family estates for wine tastings with the owners.

Day 9 – A Day in Burgundy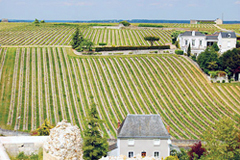 Your riverboat docks the previous evening along the Saône in Tournus; this morning, head out to explore the beautiful wine producing region of southern Burgundy, where history lies around every corner and vineyards are everywhere.  Vineyards, gently rolling hills, orchards, red-tiled farmhouses, medieval cathedrals… and historic country estates like the 17th-century Château de Cormatin, which you'll explore on a visit today. With its  moat, drawbridge, turrets, gilded rooms and park like grounds – including the mazes and fountains of its completely restored "pleasure garden" that's now among the finest in France – this classic Burgundy château takes you back through the centuries.

Day 10 – Heritage & Horses
Following the collapse of the Roman Empire, France experienced hundreds of years of unstable government; the only constant was the church. And so during the reign of Charlemagne, monastic influences inspired a great revival in art, education and culture. Nine arches grace the Pont-de-Vaux spanning the Saône River in Mâcon, and history lives along its Heritage Trail. Today you'll visit one of the great monasteries of the period when you tour the great Benedictine Abbey of Cluny; the largest Christian building in the world until the construction of St. Peter's Basilica in Rome. You'll also visit Haras National de Cluny to learn about its high-quality thoroughbred stallions. The history of wine production in this area dates back to the 14th century; a visit to a local château today includes a wine pairing lunch.

Day 11 – A Day in Lyon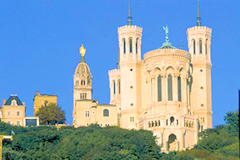 Ahh, Lyon. If you're a serious foodie, Lyon is the place for you! But of course there is more to this 2,000 year-old city, a UNESCO World Heritage Site. Your day includes getting a panoramic view of Lyon from the district of Fouvière, set high on a hill; a visit  to the stunning Basilica of Notre-Dame-de-Fourvière features exquisite marble work, stained glass windows, colorful mosaics and gilt galore; and a tour of medieval Vieux Lyon.

Day 12 – High Speed Train to Paris
As all France river cruises must, the cruise portion of your vacation ends today as you bid a fond farewell to ms Swiss Emerald. Board the TGV (a high-speed train) for two nights in the capital city of Paris. Whether you explore on- or off-the-beaten-path, you'll find yourself navigating the city's arrondissements. A panoramic city tour shows you landmark icons and the grand boulevards.

Day 13 – A Day in Paris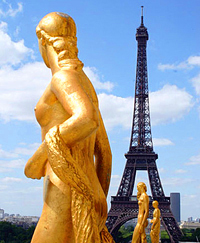 After a guided morning tour to help you get your bearings, the rest of the day is free to explore and enjoy as you please. We've included admission to your choice of museums from a selection of the city's best, including Musée du Louvre and Musée d'Orsay. Tonight, join a farewell dinner at chic Fouquet's, the quintessential Paris brasserie on the Champs-Élysées; elegance and classic cuisine have made it a celebrity favorite for more than a century!

Day 14 – Homeward Bound
This memorable France river cruise ends in Paris. Fly home or extend your stay in the City of Lights.