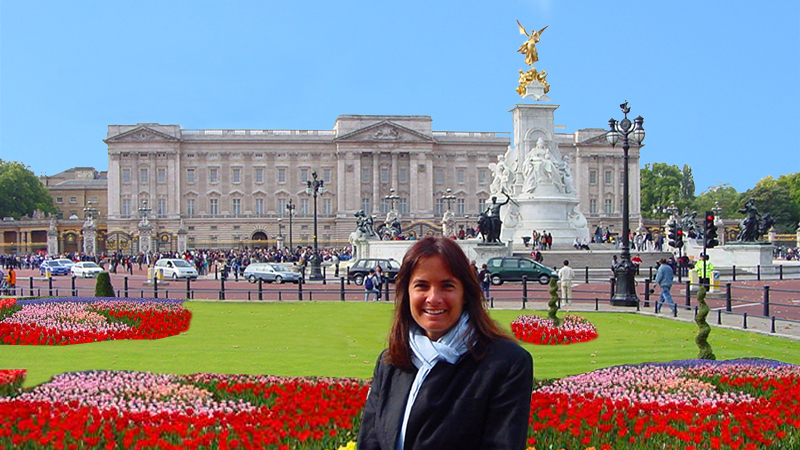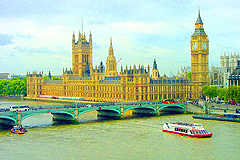 England
Explore the famous sights of historic London, including Buckingham Palace, Westminster Abbey, Big Ben and London Bridge. Stroll along the Thames, take in the breathtaking view from the "London Eye" and shop at Harrods. After the theatre, experience fine dining and drop by the pub for a pint.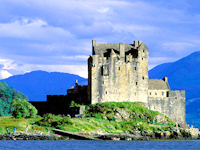 Scotland
View the Scottish Crown Jewels at Edinburgh Castle and stroll the Royal Mile. Visit Holyrood Palace, the former Royal Yacht 'Britannia', Abbotsford House, built by Sir Walter Scott and Melrose Abbey.
See More Information on Scotland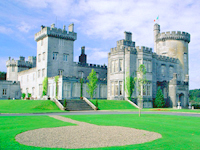 Ireland
Although Ireland is small physically, its scenery is monumental. Begin your journey in Dublin traveling through the Midlands, the dramatic landscapes of Connemara and the rolling hills of Kerry. Visit majestic cliffs, ancient monasteries and castle ruins.



See More Information on Ireland

Tour of England, Scotland and Wales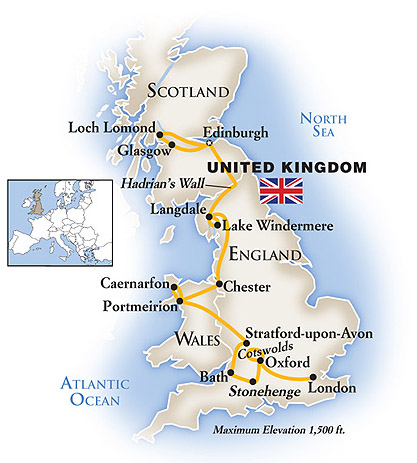 Explore the best of the British Isles. Discover Scotland's vibrant culture and rich history on visits to Edinburgh, Glasgow and Stirling Castle. Travel through England's Lake District and the Cotswolds… to Oxford's hallowed halls, Churchill's Blenheim Palace and Shakespeare's Stratford-upon-Avon… to mysterious Stonehenge, ancient Bath and sophisticated London… to unique Welsh treasures like Caernarfon and Portmeirion.

Day 1 – Arrive Edinburgh
Welcome to Edinburgh, Scotland's jewel of a capital city.

Day 2 – Edinburgh's castles and palaces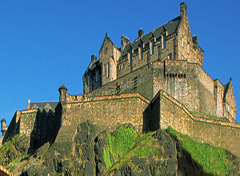 A sightseeing tour of historic Edinburgh with a local guide is the perfect place to begin any Scotland and England travel. Start at the Palace of Holyroodhouse, the Queen's official home in the city. Then explore 12th-century Edinburgh Castle, on the opposite end of the city's famous Royal Mile, on a guided tour. There is much more of Edinburgh to explore on your own this afternoon.

Day 3 – Stirling Castle & Loch Lomond cruise
An excursion from Edinburgh brings you on a visit to impressive Stirling Castle – a prime example of Scottish Renaissance architecture, parts of which date back to the 12th century – where Mary Queen of Scots was crowned. Then you're off for a private cruise on bonnie Loch Lomond and a tour of Glasgow on the Clyde before returning to Edinburgh for an evening at leisure and dinner à la carte at the hotel.

Day 4 – From Roman walls to the Lake District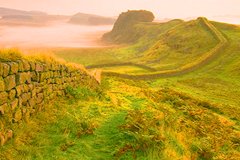 Travel from Scotland through some of Britain's most beautiful landscapes to England's Lake District today. En route, stop to check out the remains of Hadrian's Wall – constructed across Roman Britain in the 2nd century AD and named for the emperor who built it, now preserved as a UNESCO World Heritage Site. Arrive at your hotel and spa, set on a 35-acre estate in the heart of the English Lakes, for a two-night stay.

Day 5 – Cumbrian gardens & Wordsworth's beloved lakes
An excursion today takes you first to an Elizabethan estate in South Cumbria dating back to 1350; a highlight of your visit to stately Levens Hall and Gardens is its topiary gardens – among the oldest and most celebrated in the world – which have been continuously maintained since 1694. Later, as you explore various Lakes District towns and visit Dove Cottage – where poet William Wordsworth penned many a worthy word as a resident between 1799 and 1808 – you'll see for yourself why so many authors and poets have been inspired by this romantic region. Return to your hotel in the heart of one of England's largest national parks.

Day 6 – Ancient Chestser and on to Wales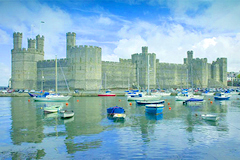 Set out across among the loveliest parts of England to Chester. Much of this 2,000-year-old city still follows its original pattern dating back to when it was the Roman town of Deva; its old defensive walls make a pleasant walk around the ancient city center, sporting Roman ruins, a Gothic cathedral, and a mix of medieval, Georgian, Victorian and modern architecture. Cross into Wales, arriving in the idyllic coastal village of Portmeirion for a two-night stay.

Day 7 – Caernarfon and along the Welsh coast
The day begins with a visit to the historic seaside town of Caernarfon and the 13th-century riverside castle where the investiture of the Prince of Wales takes place. Then wind your way along the Atlantic coast and back to Portmeirion for an evening at leisure and dinner.

Day 8 – The Bard's backyard and off to Bath
Your adventures continue today with a drive from rural Welsh landscapes to Stratford-upon-Avon, city of William Shakespeare. Explore the Bard's pastoral riverfront hometown – site of the Royal Shakespeare Theatre and many historic Elizabethan and Jacobean buildings. Continue on to the ancient city of Bath.

Day 9 – Roman, Georgian & Victorian treasures of Bath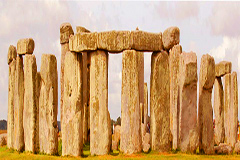 Known as one of the architecturally finest and most fascinating cities in all of Britain, the historic spa town of Bath invites your exploration with its splendid Georgian townscape crafted from native limestone. Enjoy a guided tour including the Roman Baths, the Circus and the impressive Royal Crescent, among other sites that reflect its rich Roman, Georgian and Victorian history.

Day 10 – Stonehenge & Oxford
Head across the Salisbury Plain, passing through rolling countryside where grazing sheep appear to be everywhere. Let your imagination take you back in time 4,000 years or more as you view Stonehenge, the mysterious circle of stones and monoliths erected by still-unknown ancient peoples. Continue on to Oxford for a guided walking tour of esteemed Oxford University, now just a few decades short of its 1,000th anniversary.

Day 11 -Young Winston's Blenheim & the Cotswolds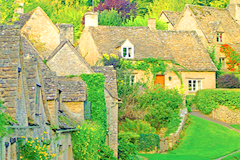 Enjoy a glimpse into the life of famed 20th-century British statesman Sir Winston Churchill on visits to Blenheim Palace – the Baroque estate where he was born, now the home of the Duke and Duchess of Marlborough – and his burial place in Bladen. Journey through the hills and plateaus of the peaceful Cotswolds, stopping in the quaint villages dotting the countryside.

Day 12 -Windsor Castle and London
Visit Windsor Castle, which British royalty has called home for about 900 years. Schedule permitting, your tour of this extraordinary complex includes St. George's Chapel, Queen Mary's Dolls' House, and the State Apartments. Your final destination today is legendary London, capital of the United Kingdom. Your five-star hotel, The Royal Horseguards, is ideally located in a historic building that served as the headquarters of the British Secret Service during the First World War.

Day 13 – Tour of London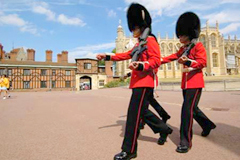 Begin with a visit to majestic Westminster Abbey, dating back nearly a thousand years, followed by a guided sightseeing tour including famous sights such as Piccadilly Circus, Big Ben, Buckingham Palace, #10 Downing Street, and Green Park. In the evening a private dinner at the Tower of London, followed by the 700-year-old tradition known as the Ceremony of the Keys… where you'll witness the Chief Yeoman Warder and his men secure the Tower for the night!

Day 14 – Heading home
Fly home or extend your trip with extra days in London or perhaps a cruise.