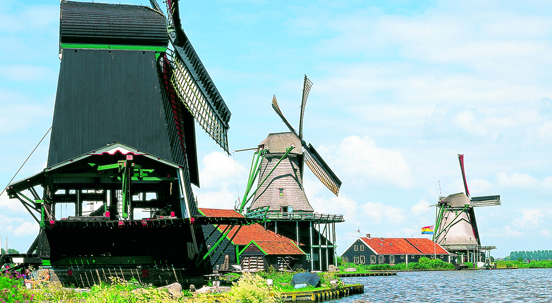 Also commonly known as Holland, this industrious country has an interesting history, active lifestyle, delicious cuisine, and amazing museums with classical and modern art.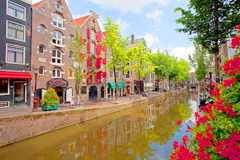 Amsterdam
The largest city is a great for walking, with canals, museums and galleries. As most international flights land here, it is a good starting point to tour the rest of the country.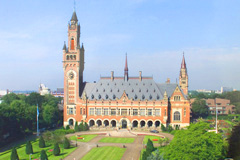 The Hague
It is the seat of government, parliament, Supreme Court.  It is serves as the International Court of Justice for the United Nations. It is the country's 2nd largest city and the residence of the Royal Monarch.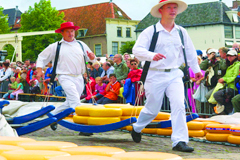 Cheese glorious cheese. Along with tulips and Indonesian cuisine, this makes for a terrific taste of the Dutch culture and countryside.

Feature Tour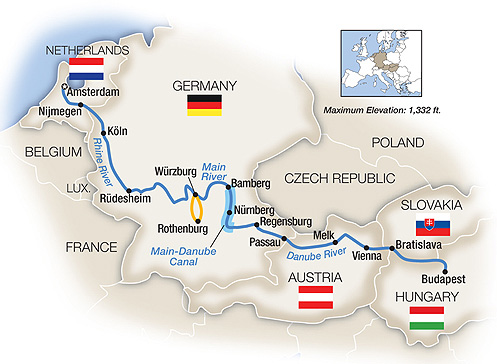 Amsterdam  to Budapest takes you on an amazing journey past grand cathedrals, medieval monasteries, castles and vineyards. Pass through five countries including the Netherlands, Germany, Austria, Slovakia, and Hungary, and explore legendary cities such as Amsterdam, Vienna, Köln, Nürnberg, Bratislava and Budapest.


Day 1: Amsterdam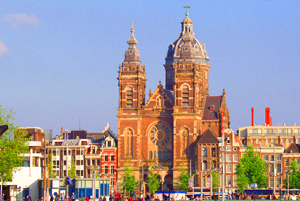 Your Rhine cruise in Amsterdam, Netherlands for a memorable cruise on the Main, Rhine and Danube Rivers.

Day 2: Great Art and Canal Cruise
Amsterdam… the name itself conjures up images of the Dutch capital's myriad cultural treasures, from gabled houses, markets and cafés to awe-inspiring museums housing a treasure trove of world-famous art – and it's all yours to enjoy today. Your guided tour of the famed Rijksmuseum is really inspiring – a firsthand look at Rembrandt's masterpiece The Night Watch is like meeting the artist himself, and you'll love seeing acclaimed works by other well-known "Old Dutch Masters." Once an exclusive royal privilege, a private sightseeing cruise by canal boat on the city's network of concentric, tree-lined 17th-century canals provides a unique view of Amsterdam's blend of architectural styles – they date all the way back to medieval times – and a unique taste of daily life in this easygoing city.
Day 3: Blend of Modern and History
Your explorations continue in Köln (Cologne), the oldest city in Germany. A guided walking tour of city sights includes a visit to twin-spired Kölner Dom (Cologne Cathedral), boasting one of the world's largest church façades; it is one of Europe's most beloved Gothic cathedrals. Wander through Cathedral Square and the Hohe Strasse pedestrian area in the afternoon, or enjoy an optional visit to Köln's Roman-Germanic Museum.

Day 4: Cruising The Rhine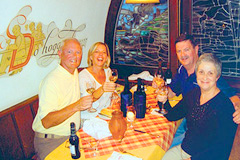 Glide along the river and legendary Lorelei Valley, a UNESCO World Heritage Site. Arrive in Rüdesheim, where an entertaining lunch in a local German restaurant with an old-world ambiance precedes a visit to Siegfrieds Mechanisches Musikkabinett, an eclectic collection of mechanical musical instruments housed in a 15th-century castle in Rüdesheim, followed by free time.

Day 5: Cruise the Main
Enjoy the views as your Rhine cruise continues into the Main River, for a full day of cruising through scenic valleys studded with castles, cathedrals, and fortified towns.

Day 6: Rothenburg or Würzburg
You can choose an excursion to medieval Rothenburg, on Germany's "Romantic Road," to see its Gothic cathedral and gabled houses on a walking tour. Or stay in Würzburg and visit its famous Residenz, where the town's prince bishops lived from 1744. One of the largest and most beautiful Baroque palaces in Germany, it was built and decorated in the 18th century by an international team of architects, painters, and sculptors, and is today recognized as a UNESCO World Heritage Site.

Day 7: Bamberg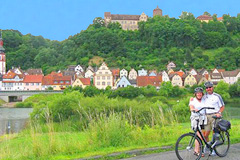 Your riverboat cruises along the Main to the Bavarian town of Bamberg, a UNESCO World Heritage Site situated atop seven hills. Discover the town's lovely gardens, medieval architecture and 13th-century Gothic cathedral with its four imposing towers on a guided walking tour of Old Town.

Day 8: Historic Nürnberg
You have a choice of a walking tour through Nürnberg's medieval ramparts to the Imperial Castle and the old city, or view the Courthouse, Zeppelinfeld rally grounds, and other sites associated with World War II and its aftermath, and visit the Documentation Center. Your riverboat negotiates the Main-Danube Canal today, which ultimately links the North Sea with the Black Sea – and which you'll learn all about from a local expert during your transit.

Day 9: Ancient Regensburg
With its roots as a Roman encampment on the Danube, the quintessential Bavarian town of Regensburg is home to more than 1,400 original historic buildings. Walking here is a delight and is the only way to view the sights up-close. A local guide will lead the way as you see the town's 12th-century Steinerne Brücke, the 15th-century Altes Rathaus, the towering Dom St. Peter, and the remains of the Roman wall. Visit the princely house of Thurn und Taxis on a guided tour.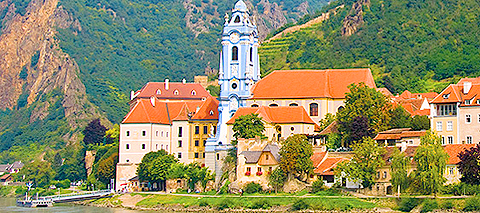 Day 10: Explore Baroque Passau
Spend time exploring this lovely Bavarian town – well-known for its Baroque architecture including unique four-story homes, scores of churches and marvelous stained glass – on a walking tour; inside St. Stephan's Cathedral, you'll see the largest pipe organ outside of the U.S.

Day 11: Melk's Baroque Abbey & Vienna Palace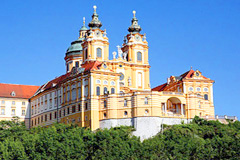 Step back in time on a guided tour of its 900-year-old Benedictine Abbey, perched on a rocky outcrop above the river. Inside this Baroque masterpiece are fine frescoes, early manuscripts, and a high altar. Back aboard the riverboat, enjoy views of castles, vineyards, small towns, monasteries and medieval ruins while cruising through the Wachau Valley toward the magnificent Austrian capital city of Vienna.

Day 12: Imperial Vienna
Get an overview of Vienna, Austria's capital and one of Europe's greatest cities, with a morning sightseeing tour of this historic former capital of the Habsburg Empire. Take your choice of a tour of Schönbrunn Palace, built to rival Versailles, or a guided visit to the Sisi Museum and the amazing Imperial Apartments inside the Hofburg, the Habsburgs' former Imperial palace that today is the official residence of Austria's president.

Day 13: Baroque Bratislava
Capital of Slovakia, where 17 centuries of history are chronicled on a walking tour led by a local guide. Highlights include Baroque palaces from the Habsburg era, along with St. Martin's Cathedral, the Opera House, Slovak Philharmonic Hall, and a visit to Old Town Hall.

Day 14: Budapest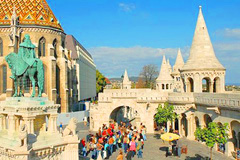 Standing on opposite banks of the Danube, Budapest's two distinct sections – Buda and Pest – were once independent cities. Discover both with views of patriotic Heroes' Square in Pest, dominated by statues of great leaders from Hungarian history; the Gothic-Revival Parliament building, an iconic feature of the Budapest skyline along the Danube; and Fishermen's Bastion, standing watch like a sentinel over the river.

Day 15: Journey Home
Depart for home or extend your stay.