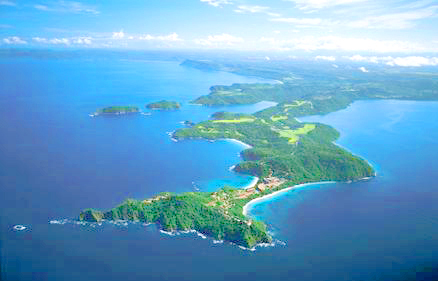 With the Caribbean Sea on the east coast and Pacific Ocean on the west, Costa Rica enjoys the best of both worlds. From the tranquil coastlines and sandy beaches to the national parks and volcanoes; there is so much to experience in this friendly Latin-American country.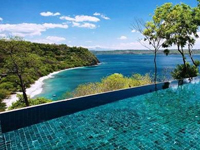 Costa Rica vacations offer a peaceful oasis with pure beauty, exotic wildlife and countless options for adventure or relaxation.
Guanacaste attracts travelers with unspoiled beaches, tropical rain forests, and luxury resorts.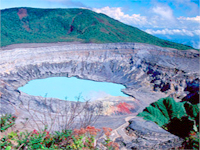 Hike rain forests, climb a volcano, traverse the jungle on a zip line or do nothing but relax in the comfort of your hotel.
Central Costa Rica offers proximity to the capital city of San Jose, as well as a unique mix of museums, culture and an intricate eco-system.

Jungles & Rainforest Tour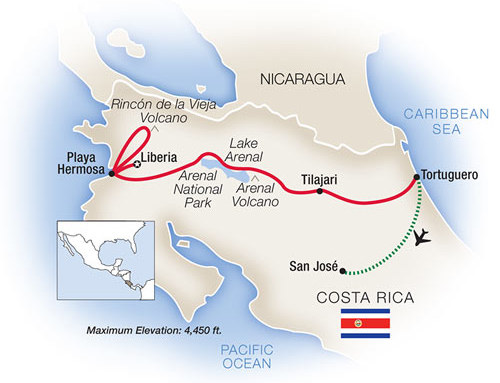 Life is colorful on a Costa Rica vacation, where even butterflies like the electric-blue morpho make visitors gape in awe. More than 850 different species of birds make their homes here, from emerald-green parrots, scarlet macaws and bright-billed "flying banana" toucans to purple-throated hummingbirds, orange-bellied trogons, and red and green plumed quetzals. Green turtles and iguanas, red frogs and white-faced monkeys are also a big draw too, as you'll find out when you explore tropical rain forests and jungles on a rafting trip and a nature hike during overnight stays in riverfront lodges.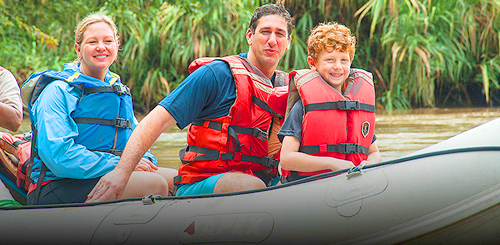 One of our most popular trips immerses you in the Earth Journeys experience, featuring custom-made BBC Earth on-tour film vignettes and when the opportunity arises, the use of field equipment. Cruise on a lake overshadowed by a "restless" volcano. Take a sky-tram ride or a zip-line adventure through the rainforest and learn all about living in Costa Rica when you visit an organic pineapple plantation, and see – as well as taste – how the cacao fruit is transformed into chocolate.

Day 1 – Arrive Liberia
A transfer is included from Liberia International Airport to Hotel Bosque del Mar, Playa Hermosa. "Playa Hermosa" is Spanish for "beautiful beach." Meet your fellow eco-adventurers at this evening's welcome dinner at your secluded oceanfront resort, where monkeys chatter overhead, iguanas walk the sands and lush gardens surround you.

Day 2 – Outdoor Funin Guanacaste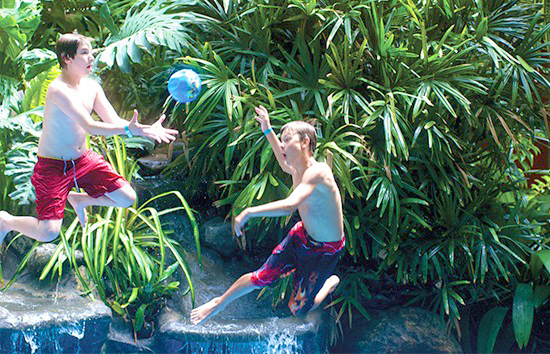 A day of fun awaits your family today at a hacienda near the slopes of the Volcano Ricon de la Vieja in Guanacaste … such as a zip-line adventure through the tree canopy, volcano hiking, nature watching via hanging bridges or a dip in volcanic thermal waters.  Spend the rest of the day as you please back at your oceanfront hotel; join us for a bonfire beach party this evening before dinner at the hotel.

Day 3 – Cruise Lake Arenal
Drive to Lake Arenal, bordered by mountainous slopes and pastoral rolling hills. Take a cruise on the lake – and if the weather is good, you'll get a glimpse from the lake of cone-shaped Arenal Volcano, an actively "restless" volcano. Then catch an extraordinary bird's-eye view on a memorable sky-tram ride – or, if you prefer, on a thrilling "Sky Trek" zip-line ride – where you soar over and through the canopy of rainforest treetops!

Day 4 – River Rafting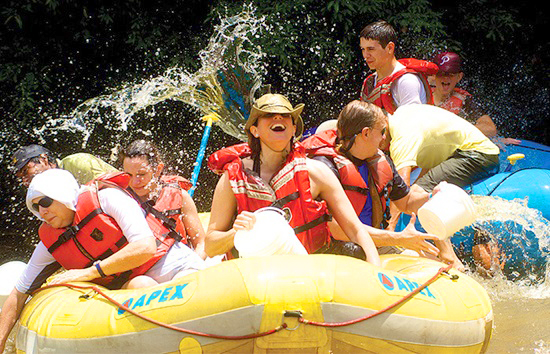 Board a river raft for a float trip through the jungle. An expert naturalist will help you try to spot giant iguanas, sloths, monkeys – maybe even crocodiles – that live along the Peñas Blancas River. You'll stop along the way to meet a local farming family who have lived on the river all of their lives. Return to your jungle resort to enjoy a host of fun activities for the remainder of the day – perhaps a little Costa Rica vacation fun including orchid spotting, bird watching, butterfly hunting, tropical fruit gathering, swimming, tennis or a garden tour. This evening, join us for a Spanish class.

Day 5 – Pineapple Farm & Jungle Lodge
Today, you go from the plantations and villages of the interior to its Caribbean coast. A highlight is your visit to an organic pineapple farm, where a local guide shows you the history of pineapple production from a special touring tramcar. A drive and a boat ride through the jungle bring you to your home for the next two nights, a riverfront lodge set on a network of canals adjacent to coastal Tortuguero National Park. Keep an eye out for turtles, monkeys, toucans and more.

Day 6 – Tortuguero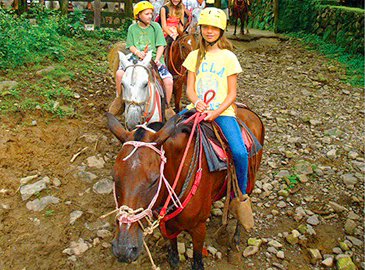 Arise to the sounds of the rainforest this morning in Tortuguero National Park. Explore this amazing place by both land and boat, cruising the jungle canals with an expert naturalist guide to look for wildlife. Visit a local village, and learn more about efforts to protect these amazing ecosystems for the future at the Caribbean Conservation Center. Take a canal cruise in the park. During July and August, take an unforgettable nighttime trip to the beach to observe nesting green sea turtles in one of the world's top nesting grounds for these endangered animals.

Day 7 – San Jose
Fly to San José today. Learn everything you ever wanted to know about one of our favorite food groups… chocolate! See the natural process of transforming the cacao fruit into chocolate during a hands-on demonstration, do a little tasting and have lunch. Spend some free time exploring San José or enjoying the amenities of your hotel, then say "adios" to all the new friends your family has made at a fun-filled farewell reception and dinner tonight.

Day 8 – Adios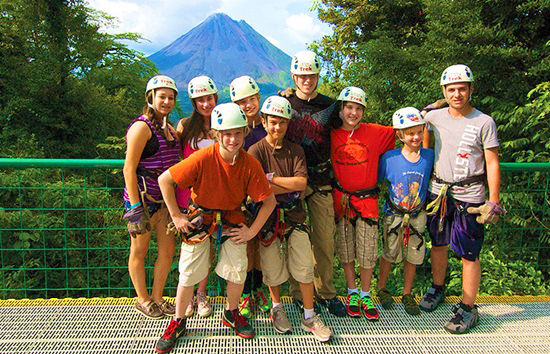 Your family's memorable Costa Rica vacation ends in San José. A transfer is included from your hotel to Juan Santamaría International Airport. Inquire at time of booking about extending your family vacation with additional nights in San José.