From the desert region of the north, to cosmopolitan Santiago, to the fjords of Patagonia in the south, the country is as breathtaking and as the people are diverse.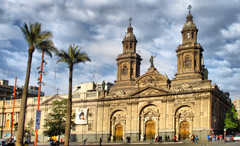 Santiago

A sophisticated metropolis wedged between the Andes and Coastal Ranges. Visit the Palacio de La Moneda (Presidential Palace), originally a colonial mint; the Plaza de Armas; the Cathedral; and the Central Post Office. Continue to San Cristobal Hill for a panoramic view of the city and the Andes.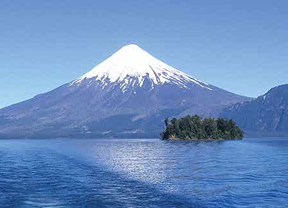 Lake District
The Lake District has snow-capped volcanoes, pristine lakes and rushing white water. At Puerto Varas a chain of lakes and overland roads wind through the Andes to Argentina. This Alpine region offers rafting, horseback riding and exploration of the range of volcanoes.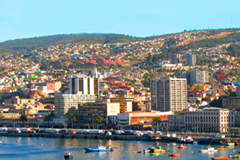 Valparaiso

An major port city for centuries Valparaiso continues to serve that role and as it retains its historical past in the architecture. Vin del Mar has developed into a popular beach resort community.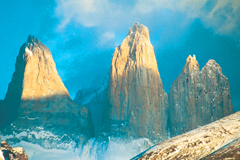 Patagonia
Torres del Paine National Park boasts the world's most stunning array of mountains, glaciers, lakes and forest. The hallmark granite cuernos (horns) and torres (towers) thrust abruptly skyward from the flat pampa. At their feet, the turquoise, emerald and aquamarine lakes provide the perfect contrast.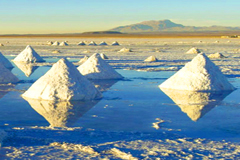 The Atacama Desert

It will leave you in awe – and no, it won't be anything near what you expect. It even snows in the desert! This is the world's driest desert, home to cactus', salt flats, geysers and so much more to be discovered.



Featured Tours
Chile, Peru and Bolivia
Chile, Peru Bolivia and Atacama on a journey that reveals this splendid region at its most remote and beautiful, meet a family living on a floating island on Lake Titicaca, explore the Uyuni Salt Flats and view ancient petroglyphs.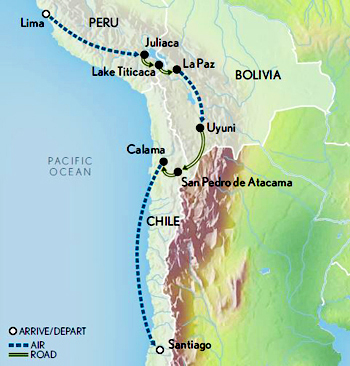 See Tour Details

---
Highlights of South America
The Highlights of South America tour inspires with in-depth discoveries of the many wonders. From the western coast of Chile to the eastern coast of Brazil by way of Patagonia, the Andes and through some of the world's most breathtaking scenery. Discover the very best of a trio of world-class South American cities – Santiago, Buenos Aires and Rio de Janeiro.